A Capitalist Uprising At Versailles
Edward J. Zander, president of Sun Microsystems Inc., planned an eye-popping arrival at Sun's annual Sun Rise reception for top sales people. Dressed as the Sun King, Louis XIV, he hoped to alight from a horse-drawn coach at the Chateau de Versailles. That was a bit much for officials at Versailles, who turned him down. Nonetheless, in a break with tradition, they allowed Sun's 3,416 guests to dress in 17th century costumes.
Not since the period before the French Revolution in 1789 had so many men in high heels and satin knee pants and women in 1-meter-wide crinoline dresses tripped through the gardens. Guests had a private tour of the palace, and a privileged few sipped cocktails in the Hall of Battles and ate dinner in the orangery. The October fete cost Sun about $300,000. Zander remembers the event as "beautiful and special. Everybody had a great time."
Long the untouchable vestige of flamboyant royalty, Versailles has been a drain on the national treasury, with 30% of its annual budget subsidized by the government--$10 million last year. But that is due for a change. In the past decade, the Culture Ministry, which operates Versailles and other national monuments, has turned the Louvre and the National Library of France into moneymakers. Now, it is determined to eliminate the annual subsidy to this grand symbol of royal excess. At the same time, the French government wants to restore Versailles' magnificent buildings and 850-hectare estate to the grandeur of three centuries ago and upgrade its tourist facilities--all at a cost of $470 million.
Louis XIV, of course, took from the public till to build Versailles and did so again to make improvements. With a snap of the royal fingers, he caused chestnut trees to sprout along the Royal Alley and fountains to spring from the ground. Hubert Astier, a former counselor to the Culture Minister who was put in charge of Versailles a year ago by President Jacques Chirac, cannot raise taxes. But he has a resource the Sun King never dreamed of: wealthy international corporations willing to pay hefty fees to walk in the footsteps of the Sun King.
MAGIC TRICKS. Astier's staff is sending elaborate marketing packets to 1,000 French companies. Some 20 already have booked parties this year. Prices range from $10,000 for an evening by a shut-down fountain ($15,000 if the fountain works) to $70,000 for a ball in the Hall of Battles. And that's just to rent the room. Entertainment, catering, and other extras add to the cost. Last year, parties brought in $1.2 million. Astier expects to double that amount by 2003. "It's ideal for brainstorming," and the site is "gorgeous," says Dave Work, manager of the North Atlanta Convention Center. Work, who is visiting Versailles as a tourist, calls the prices affordable.
Corporate contributions don't stop there. Astier is stepping up a sponsorship program that was begun several years ago to underwrite restoration work. For instance, Matif, the French financial futures market, contributed $1 million to restore the Enceladus Grove, a garden surrounding a fountain. In return, Matif officials were granted permission to use Versailles to "enhance the image of the French futures and stock markets abroad," says Matif Chairman and Chief Executive Gerard Pfauwadel. Matif gets free use of the premises for social events. Pfauwadel says the name "Versailles" works magic on foreigners.
No one seems to object to corporate types promenading through the gilded halls after hours. More daring is Astier's plan to hawk the Versailles name. He has registered Chateau de Versailles and Jardin de Versailles as trademarks. Now, he is looking for licensees who will stamp the names on such items as watches and crockery. He also wants to sell reproductions of objects related to French aristocratic life, such as tablecloths with prints taken from the Queen's room and replicas of old flowerpots, combs, and other items. The goods will be sold at Versailles as well as in retail stores throughout France and on the Internet, beginning on Feb. 5. One thing royalists won't be able to purchase is T-shirts. Astier has forbidden them because they are too common.
Inevitably, a few French citizens are wary of commercialization. While she doesn't believe the Golden Arches will invade the royal park, Isabelle Pepin, an archaeologist who grew up in Versailles, fears the estate may suffer from littering if food outlets are opened. She also worries that "we're going toward a standard of fat Americans who always need to eat. It's important to preserve the quaint and seclusive charm of the park," she says.
FONDNESS. But Astier doesn't concern himself with such remarks. On a winter afternoon, he gazes out the window of the chateau, which glistens in a cold rain. Tourists hurry through the gate and over the wet cobblestones. "We are not EuroDisney," he says. "[Our goal] is not to squeeze money out of every possible thing." Maybe not, but Astier doesn't seem to overlook much. Versailles has even hired fund-raising companies in the U.S. and Japan to generate $167 million in restoration money. Many wealthy Japanese have become Francophiles and are big buyers of French art and real estate. Americans, too, tend to have a fond feeling for Versailles, where treaties ending the American Revolution and World War I were signed.
For their part, tourists accept that Versailles' heritage must be sold to raise money for restoration. Francois-Xavier Chateau, an interior decorator from Paris, on his 20th visit to Versailles stands on a damp path, dwarfed by marble statues wrapped in green covers for the winter. Shouting to be heard above the noise of chain saws cutting down dead chestnut trees and tractors plowing the Tapis Vert, the central lawn of the Royal Alley, he says he is pleased that Versailles will return to its "original perfectness." But Chateau is sorry that perfection will require funds from outsiders. Versailles "is a French heritage. French people should pay for it. I'm ready to pay extra taxes to take care of Versailles."
The comment would delight Louis XIV. He commissioned Versailles to be the biggest castle in the kingdom. In 1662, he moved in, and his descendants lived here until the French Revolution. Later, Napoleon Bonaparte turned the Queen's room into his quarters. In 1837, Versailles became a museum.
Last year, some 10 million visitors came through the ornate iron gates (almost as many as visited Disneyland Paris) to gawk at the French Classical rooms and roam 80 hectares of formal gardens with dozens of fountains. But visitors often get a decidedly unroyal welcome--they line up for hours in the rain or under the blazing sun during the peak season just to buy tickets.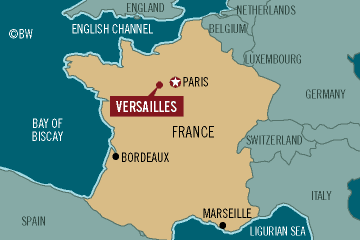 So under Astier, perhaps for the first time in Versailles history, there is concern for the well-being of the common man. Versailles wants to become tourist-friendly by 2002, and it will open an extensive welcome area in a former military hospital. The center will include shops, a post office, ticket booths, and food outlets, all aimed at generating additional revenue. Versailles also will try to increase visitors' spending by offering tours of areas that are now off-limits and by promoting services such as boat rides. Tours are being redesigned to avoid bottlenecks in narrow halls and doorways and to allow more visitors. And Versailles plans to sell home-grown produce and honey from Marie-Antoinette's farm, which was restored in 1993.
Once the welcome center is open, Versailles will be able to accommodate even more visitors. They may pretend they are walking the cobblestones with the Sun King or sitting with Woodrow Wilson as he signs the Treaty of Versailles. A lucky handful may even be allowed to dress the part.
Before it's here, it's on the Bloomberg Terminal.
LEARN MORE