Will Jackpot Pay Off Soon?
by
Pressure is building on Jackpot Enterprises (J) CEO Don Kornstein to boost this languishing stock. Investment guru Mario Gabelli raised his stake in the coin-operated gambling-machine operator to more than 5% on Jan. 20, giving new zip to a yearlong campaign by some discontented shareholders to force Kornstein to shake the stock out of its doldrums--or sell the company. For 12 months, the stock has been stuck in the 10 to 12 range.
Kenneth Pavia of Bolero Investment Group pressed Kornstein to hire an investment bank to explore the sale or merger of Jackpot to enhance its value. Pavia, whose group has a 5% stake, is getting impatient because Kornstein, he says, seems to be stalling. Jackpot operates 4,000 gambling machines in supermarkets, drugstores, bars, and restaurants--plus two casinos in Nevada, which are on the block.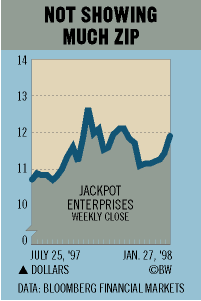 Pavia has heard rumors that Kornstein was approached by a big casino outfit looking to buy Jackpot but that the CEO dismissed the idea. Pavia believes several companies are interested in Jackpot "if only Kornstein would agree." Pavia suspects Kornstein himself may be planning a leveraged buyout--since the price of the stock has long been depressed. Kornstein says he and the board "are committed to building up long-term shareholder value and pursuing all opportunities toward that end."
Gabelli says he upped his stake because management has "tremendous opportunity to boost the stock price." He notes that the company is debt-free, with lots of cash--equal to $5.50 a share. He thinks the stock is worth at least $18. Earnings were 85 cents a share in the year ended June 30, 1997, and are expected to be 82 cents this year.
Before it's here, it's on the Bloomberg Terminal.
LEARN MORE