Way Cool Mercury, Dude
Ford's dowdy division will try to grow younger in California
By
Tony Shaieb has a message for Ford Motor Co.: Don't mess with my Grand Marquis. Shaieb, a Farmington Hills (Mich.) auto-parts salesman on his second Grand Marquis, loves his Mercury's soft boulevard ride and commodious cabin. Says the 53-year-old Shaieb: "If Ford wants to go after the younger market, maybe they could do that with their other cars."
Tough luck, Tony. Ford has a better idea: It is giving its aged Mercury brand a top-to-bottom makeover, hoping to reverse a decline in sales--off 17% since its 1984 peak. Ford has little choice but to make something out of Mercury or risk losing ground in the U.S. market, where Mercury still commands close to 3% of sales. Nor could Ford risk the backlash from dealers if it were to consider killing the brand outright.
"A BLUR." Since Henry Ford's son, Edsel, founded Mercury in 1939, it has lived in the shadows of the powerful Ford brand. Its models--often just chromed-up clones of more popular Ford Div. cars--never built a strong brand identity. "Mercury was always a blur," admits Lincoln Mercury General Manager James O'Connor. Lincoln, its corporate sibling, already began its overhaul last summer to boost sluggish sales. It introduced the jumbo Navigator sport-utility vehicle, which became a hot seller among baby boomers, and in January it announced the discontinuation of the slow-selling Mark VIII.
Like the Mark VIII, Mercury's flagship, the Grand Marquis, is a hit only with the silver-haired set. The average Marquis owner is 68, and the model is the No.1-selling large car in Florida. Those demographics spell a slow, steady decline in sales.
So Ford is trying to help Mercury think young. On Jan. 22, it announced that the Lincoln-Mercury Div. was moving to Irvine, Calif.--the first Detroit divisional headquarters to go coastal. Ford hopes Mercury can catch a wave of California cool and overcome its stodgy image. It also hopes to escape rampant Motown myopia--generated by roads clogged with Big Three cars. In California, imports rule; Mercury has about 2% of the market. Says Robert L. Rewey, Ford's group vice-president for marketing: "This is a way to clear out inhibitions that maybe we don't even realize we have."
NO MYSTIQUE. Even before heading West, Mercury had inaugurated its youth movement with an edgy redesign of the Cougar, unveiled in early January and scheduled to go on sale in May. The Cougar, sporting angry cat's-eye headlights and an expected base price of $18,000, is after buyers age 25 to 40. Those are tire kickers who haven't hit the Mercury showroom since the late 1960s, when the original Cougar enjoyed success as an upscale knockoff of the Mustang.
The new version is not a copy of anything. It's the first of a long line of products that will be unique to Mercury, Ford officials say. Coming next is a small sport-utility vehicle in 2000, followed by a smaller Sable sedan, no longer a twin to the Ford Taurus, insiders say. Dropping from Mercury's lineup will be the slow-selling Mystique compact and Tracer small car, the sources say.
The transition to a younger audience carries its risks--the company could scare off its loyal Marquis buyers. Shaieb is on the young side, but typical of the breed: doggedly devoted and averse to change. "My plan is to get the same exact thing next time," he says.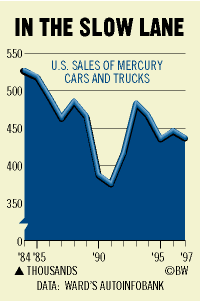 Such loyalty has made the Grand Marquis Ford's most profitable car, insiders say. But its image holds the entire line back. "It's the car grandfather drives," says auto consultant Christopher Cedergren, of NexTrend Inc. in Thousand Oaks, Calif. Thus, despite the reliable sales, Ford has to put its cash cow out to pasture, analysts say.
Shaieb needn't worry yet--a replacement could take a decade to create. But eventually, the Grand Marquis will join its loyal buyers in retirement. "Ten years from now, there won't be a Grand Marquis--at least not the way it looks now," acknowledges O'Connor. But there might be a healthy Mercury.
Before it's here, it's on the Bloomberg Terminal.
LEARN MORE