U.S.: Tight Labor Markets Could Put The Squeeze On Bottom Lines
Rising wage and benefit costs will make profits harder to come by
By
If you're looking for reasons to worry about profits in 1998, look beyond the Asian crisis to the consequences of super-tight U.S. labor markets. Labor costs jumped sharply at the end of 1997, and further acceleration, which would put the squeeze on profit margins in 1998, is all but assured.
The troublesome news from labor costs couldn't come at a worse time for many corporations. First of all, companies are still finding it difficult to raise prices, a task made even harder by the disinflationary winds blowing out of Asia. Second, productivity growth in 1998 will not match the speedup in labor costs. Also, the problem is not just wages. The pace of benefits is now picking up. And finally, given that the economy will slow at some point this year, top-line revenue growth may suffer in the second half.
The bearer of these bad tidings was the Labor Dept.'s employment cost index (ECI), which measures wages, salaries, and benefits and is generally accepted as the best available reading of labor costs. The fourth-quarter ECI for civilian workers jumped 1% from the third quarter, the largest quarterly rise in five years. The index for the private sector, a truer reflection of labor-market pressures, surged an even steeper 1.2%, and the yearly pace picked up considerably, led by faster wage growth (chart).
Of course, the flip side of higher labor costs is more buying power for consumers, especially with inflation so low. That's the chief reason why consumers stayed upbeat in January and why strong domestic demand is helping manufacturers to weather the fallout from Asia. Because of the recent ups and downs in aircraft orders, new factory bookings for durable goods fell 6.1% in December, but they had leaped 5.1% in November. Excluding aircraft, December orders rose 0.9%.
THE BIG HIKE IN THE ECI surprised Wall Street, especially the bond market, which sold off out of fear that rising labor costs could reawaken inflation worries that had been all but put to rest by the Asian crisis. The data at least removed any expectation that the Federal Reserve might cut interest rates anytime soon.
The stock market, enamored of good fourth-quarter earnings reports, was unfazed by the ECI report, but perhaps investors should take another look at the trends. In the private sector, overall compensation increased 3.4% from a year ago, the fastest annual clip in four years. Faster wage growth is driving that acceleration. Wages and salaries are up 3.9% from a year ago, the largest yearly increase in seven years. And benefits, lifted in the fourth quarter by bonuses and costs related to faster pay growth, were up 2.3% on the year. They haven't risen that fast in 2 1/2 years.
The problem for profits is that the wage-driven acceleration in overall compensation will continue in 1998, as labor markets remain tight. The fourth-quarter pickup is evidence that joblessness, now ensconced well under 5%, is below the level that causes compensation to speed up. And wages will continue to grow at a progressively faster pace until the jobless rate rises to a level that halts that acceleration.
Stellar productivity growth in 1997 of nearly 2% prevented unit labor costs from speeding up last year, allowing good profit gains amid weak pricing power. But in 1998, even 2% productivity growth may not be sufficient to prevent a speedup in unit labor costs. And if productivity slows, as many economists expect, the unit cost pressures will be even greater.
THE SERVICE SECTOR, where 75% of all private-sector workers are employed, is where the real trouble with labor costs is brewing. The ECI report showed a steep acceleration in service-industry labor costs, while costs among goods producers remained tame (chart).
Compensation in services last quarter shot up 1.5% from the third quarter, the largest quarterly rise in nine years. Sales commissions added to the increase, but the upward trend is clear. The pace from a year ago was 4%, led by a 4.4% rise in wages, the fastest pay growth in this seven-year expansion. With a further speedup likely in 1998, it is highly unlikely that service-sector productivity gains will be sufficient to prevent unit labor costs from accelerating.
So will service companies take a hit on their bottom lines, or will they cushion the blow by increasing prices? Clearly, service-sector profits will suffer, but some acceleration in service inflation looks likely. That's because services are far less exposed to the impact of the strong dollar and foreign competition than goods producers are. So services are the most likely businesses to have success in lifting prices in 1998.
For all companies, benefits will be getting costlier this year. In particular, medical-care costs appear ready to start pushing up benefits. Cost pressures among several health-insurance providers became evident last year. And in December, the consumer price index for medical care rose 0.5%, the largest monthly increase in three years. The prices for most company health plans typically adjust in January, so first-quarter benefit costs may show a further speedup. Moreover, with 85% of workers now covered by a managed-care program, according to a Mercer/Foster Higgins study, the 1990s trend of saving money by switching to managed care is now all but played out.
THE GROWTH IN LABOR COSTS should make a dent in profit margins fairly quickly this year. But overall earnings growth should benefit a while longer from the strength of domestic demand, buoyed by low interest rates, healthy job markets, and upbeat consumers.
Households remained optimistic in January, mainly reflecting excellent job and income prospects. The Conference Board's index of consumer confidence slipped to 127.3 in January, from a revised 136.2 in December, but December's reading had been a 28-year high. The January index is still quite lofty by historical standards (chart), and happy consumers are spending. LJR Redbook Research said that retail sales in the first three weeks of January were up a steep 1.8% from December's average.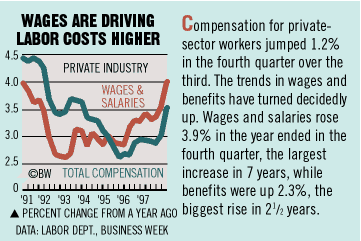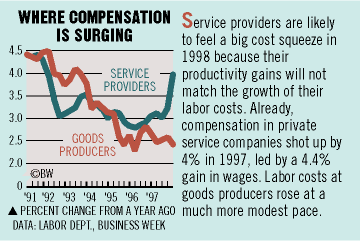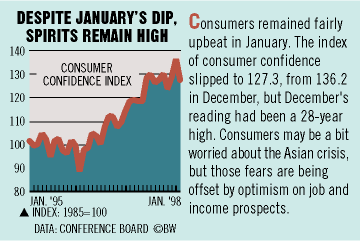 Spending will also get a boost from mortgage refinancings. The Mortgage Bankers Assn.'s index of refi applications skyrocketed, to greater than 3,000, in the middle two weeks of January. That record level is far higher than any point recorded during the refi binge of 1993 and 1994, when extra cash from refis added billions of dollars to consumer spending. This year's boost from refinancing means that last year's spending spree may have further to run, especially with household buying power already so strong.
Indeed, rising compensation has always been a double-edged sword for the economy. For consumers, fatter paychecks mean increased spending. But for businesses, the growing tab for labor means that squeezing a few cents of profit from each revenue buck is going to get a lot harder this year.
Before it's here, it's on the Bloomberg Terminal.
LEARN MORE