The Wrong Way To Prime Japan's Pump?
Don't go by the Nikkei. This stimulus plan may not work
By
It's a familiar scene in Tokyo: prosecutors swooping down, making arrests and carrying away boxes of papers in yet another financial scandal. But this time was different. The Jan. 26 raid was at the august Ministry of Finance, where two top bureaucrats were arrested on charges of tipping big banks off to surprise inspections in exchange for $70,000 worth of entertainment. The next day, Finance Minister Hiroshi Mitsuzuka announced he would resign to take responsibility.
You'd think such turmoil would throw the Japanese stock market into another tailspin. Instead, traders shrugged off the news. With the Nikkei stock average near 17,000, up 15% from December's 2 1/2-year low (chart), investors are suddenly optimistic. And why not? The resignation of Mitsuzuka, who was closely linked to Prime Minister Ryutaro Hashimoto's misguided program of fiscal austerity last year, immediately paved the way for Japan's lower house to pass a $15.8 billion tax cut. There is also talk of tax breaks for corporations and individuals, more public-works spending, and a $240 billion bailout for banks and depositors--all by Feb. 20.
BIG TEMPTATION. But Japan has launched many unsuccessful stimulus plans in recent years, and some investors fear this one--and the rally it has produced--may also end in disappointment. The government's real motive may be to talk the Nikkei up to 18,000 by the end of the fiscal year on Mar. 31. Doing so would bolster beleaguered banks, boost consumer confidence, and assure Washington and Asian allies that Hashimoto isn't going to let Japan sink into depression.
The temptation for the ruling Liberal Democratic Party to jawbone the market higher has never been greater. If the Nikkei were to fall below 15,000 by Mar. 31, ailing banks, already saddled with $600 billion in dud loans, would face more losses on their massive stock holdings. Some lenders, including Fuji Bank, Asahi Bank, and Chuo Trust & Banking, might even see their capital ratios fall below the internationally mandated level of 8% of assets.
Japan is also under pressure from Washington to recharge its economy ahead of a Group of Eight meeting of finance ministers on Feb. 21 in Birmingham, England. With U.S. Treasury Secretary Robert E. Rubin expected to discuss measures to stabilize the currency meltdown and debt crisis in East Asia, the Japanese don't want to show up empty-handed.
If Hashimoto has his way, they won't. The government will make a $240 billion stability fund available to shore up the resources of Japan's Deposit Insurance Corp. That will help cover depositors of failed banks, buy preferred shares in weaker ones, and make loans to banks in need of capital. A $15 billion income tax cut unveiled in 1997 will probably be extended another year. Corporate tax rates have been cut by $3 billion, and $48 billion in accelerated public-works spending will be added to the mix.
The package could gain even more oomph if the Ministry of Finance were to allow companies more freedom to repurchase shares, as former Prime Minister Kiichi Miyazawa has proposed. Even under current restrictions, completed and announced buybacks by Toyota Motor, Mitsubishi Chemical, Matsushita Electric Works, and other big corporations totaled $8 billion last year. UBS Securities Ltd. equity strategist Neil Rogers thinks that figure could double over the next year. If buyback restrictions were lifted, Rogers thinks the market could climb as high as 22,000 over the next year.
Still, there's reason for skepticism. Hashimoto's economic plans probably won't do much for consumer spending, which represents 60% of Japan's output. HSBC James Capel equity strategist Jason James thinks it would take a $40 billion annual tax cut frozen in place for two or three years to get consumers spending again. Asia's economic collapse remains a problem for Japanese exporters and lenders.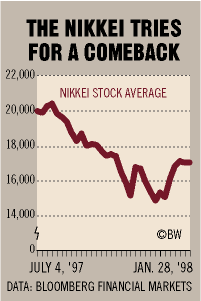 Another concern is that the bank bailout may end up bolstering weaker players at the expense of stronger ones. Already there are signs that banks may be getting off easy. Not only will public money help prop up banks, but the LDP is weighing additional tax breaks to ease the credit crunch. Although bank shares recently rose on the possibility, analysts say unless a shakeout of Japan's overcrowded banking sector happens fast, any gains may be short-lived.
Japan has the financial resources to get its economy back on track. Any delays, however, may send the Nikkei into a deep freeze not long after Japan's cherry blossoms do their thing this spring.
Before it's here, it's on the Bloomberg Terminal.
LEARN MORE