business
Shaking Off The Rust At Bethlehem
It's shedding struggling divisions and making a stab at growth
By
For two decades, Bethlehem Steel Corp. was slouching toward oblivion. The No.2 U.S. steelmaker even postponed getting rid of money-losing operations, in part because severance costs were so high--around $100,000 per worker. While sales stayed flat, between $4 billion and $5 billion a year, restructuring charges led to an estimated $175 million in losses from 1994 through 1997. Bethlehem's stock tumbled from 19 in 1995 to single digits--and in 1997, after a 69-year run, it was ignominiously booted from the Dow Jones industrial average.
But little by little, as the steel business has revived, Bethlehem has found the money to get out of old businesses. And now, Chairman Curtis "Hank" Barnette says he's ready to take a stab at growth. In December, Barnette stunned the industry with a $650 million bid for Lukens Inc., a $1 billion producer of steel plate based in Coatesville, Pa. With Lukens, Barnette says, Bethlehem would grow to $5.5 billion in revenue and become a leader in steel plate, the metal used in ships, pipelines, and skyscrapers. The deal would even lower Bethlehem's debt-to-capital ratio from 69.5% to 67.2%, according to Prudential Securities Inc., since Lukens has less debt.
BADLY TIMED? After Allegheny Teledyne Inc. topped Bethlehem's offer, Barnette on Jan. 6 raised his cash, stock, and debt-assumption bid to $700 million. "The deal would permit us to establish a premier plate division," he says. Allegheny has not responded, leaving analysts to conclude that Barnette will land his prize.
Barnette's bid may be badly timed, however. Asia's woes have hurt the price of steel and steel stocks, weakening Barnette's acquisition currency. Worse, a day after he upped his offer, two minimill operators, Nucor Corp. and Canada's IPSCO Inc., disclosed plans for new plate mills of their own. That could boost capacity by 20% in the slow-growing 11-million-ton plate market. Nucor aims to build its mill on Bethlehem's East Coast turf, where the rival plans to compete hard on price. "We'll have much more efficient technology," says Nucor CEO John D. Correnti.
Certainly, Bethlehem is far better positioned now than it was a decade ago. For starters, it is no longer lugging all those struggling divisions. In the past year alone, Barnette, 63, who took over in 1992, has shut the last operations in the company's hometown of Bethlehem, Pa., and sold a host of smaller units. These moves, he says, cut annual losses by $70 million. In the past 18 months, he also has slashed net debt and pension obligations by some $700 million, or 56%. "It's all those cost reductions that have me excited," says Kenneth W.P. Hoffman, a steel analyst at Prudential.
Operations, meanwhile, are looking up. The company's Burns Harbor (Ind.) division, which produces steel sheet, still leads the industry in profit per ton. And Barnette has made major progress at its mill at Sparrows Point, Md., which generates a third of Bethlehem's revenue. For years, Sparrows Point had been on deathwatch, especially since Nucor opened its Charleston (S.C.) mill in 1996. In fact, only shutdown costs may have kept Sparrows Point alive. With the mill's future in doubt, Barnette dangled a potential $300 million investment in Sparrows Point in front of the United Steelworkers. In exchange, he won concessions on workforce reductions that should cut costs 10%.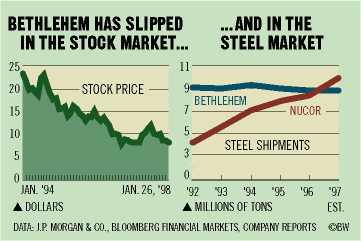 With a new cold rolling mill--which presses sheets of steel to precise gauges--coming in 1999, lower costs and higher quality should place Sparrows Point on solid footing. "I like the move they made," says Michael Gambardella, an analyst at J.P. Morgan & Co., adding that "this is the first time we've had a buy on Bethlehem in 2 1/2 years."
In the meantime, Barnette says he's ready to battle the minimills in the $5 billion plate market. He maintains that by joining with Lukens and shutting two of the combined company's six units, a streamlined Bethlehem can rule the plate market. Barnette knows he's in for a fight, though he disparages the quality of the minis' steel as "garden variety." But in this battle, Bethlehem Steel appears positioned, for the first time in years, to be a contender.
Before it's here, it's on the Bloomberg Terminal.
LEARN MORE