Mc Leod Usa: No Telecom Hayseed
Clark McLeod's tiny telecom makes big Midwest inroads
by
In 1982, Clark E. McLeod broke into the long-distance telephone business by randomly dropping a pen onto 25 names in the phone book. He visited each person--and persuaded 15 of them to buy service from his unknown company, Teleconnect. His pitch? Personalized service for 10% less than the going rates. Within five years, his company had wrestled away 50% of AT&T's market share in Des Moines, Council Bluffs, Iowa, and other such markets. "We gave our customers back control, and as a result, we won them right and left," McLeod boasts.
Today, his new company, McLeod USA, is using a similar tactic to make inroads in another market: local telephone service. Even as many legislators and regulators fear that telecom deregulation is failing, McLeod USA is quietly chipping away at giants U S West Inc. and Ameritech Corp. in small and midsize cities in the Midwest. The Cedar Rapids (Iowa) business has attracted 280,000 customers and earned a market capitalization of $3 billion since going public 19 months ago. With the help of an acquisition, revenues tripled, to about $260 million, in '97 and operating income broke into the black in the fourth quarter for the first time.
Although McLeod USA still qualifies as a pip-squeak in the telecom industry, McLeod and others like him may represent the last, best hope of bringing broad competition to the $100 billion local phone market under the much-maligned Telecommunications Act of 1996. That's because McLeod is not just targeting the lucrative business market, as other new entrants, such as MCI Communications Corp., are doing. He's also aggressively marketing to residential customers, who typically have no alternative for local service. In fact, McLeod wants half of the Midwestern residential market in order to meet his bold growth target of $11.5 billion in sales by 2007.
That will be a stretch even for the hard-driving McLeod. Competitive local carriers have grabbed only 1% of the local market in the two years since the Telecom Act was passed. And a recent Wichita Falls (Tex.) court decision that labeled a key part of the act unconstitutional is sure to make the Bells even less cooperative in opening their markets to rivals. That's why McLeod paints himself as the underdog in a biblical battle with the Bells: "This is a David--prepuberty David--going against Goliath," he says.
Well, sort of. McLeod may yet end up with a giant in his corner. AT&T already buys capacity on McLeod's network to service its business customers in the upstart's region. He is also talking to AT&T about a deal in which the giant would put up money to help the entrepreneur expand his network, say sources close to AT&T. The two sides also have discussed an acquisition of McLeod USA. But insiders say that's unlikely in the near future.
OUT OF RETIREMENT. Still, speculation of a buyout has made McLeod's stock exceptionally volatile over the past year. The stock surged 25% in 1997 and is already up 11% so far this year, to $35. Several analysts have issued buy recommendations on McLeod's stock, but much of the interest is due to the acquisition talk. The heavy costs of expansion have kept McLeod's net income in the red.
Even without a partner, the 52-year-old McLeod is used to taking on giants. Back in the 1980s, he helped turn Teleconnect, which later became Telecom USA Inc., into the fourth-largest long-distance company, behind AT&T, MCI, and Sprint. When MCI bought Telecom USA in 1990 for $1.25 billion, McLeod left with a $50 million parachute and built a gated house with a golf tee, green, and pond on 50 acres of Iowa farmland.
But retirement didn't suit the Hawkeye. A worker since age 12, when he scooped chicken poop and stacked hay, McLeod calls entrepreneurialism a "narcotic." So he and friends brainstormed business options while playing Ping-Pong in a barren shack. After six months, they chose another telecom venture over riverboat gambling, walnut-tree farms, and for-profit schools.
MAJOR DRAWBACK. McLeod decided on an unconventional--and cheap--way into the business. Instead of building costly fiber-optic networks first and attracting customers later, McLeod decided to buy service from U S West and Ameritech and then resell it to customers--his wholesale discount is now about 20%. By bundling local service with long-distance, Internet, and paging service, McLeod has carved out 30% of the market in some Midwestern cities with populations ranging from 8,000 to 300,000. Local telephone companies can't offer such a broad package until they adhere to requirements for opening their lines to competition. "I'm unable to meet customer needs because I'm still regulated," complains Teresa A. Wahlert, vice-president for U S West's operations in Iowa.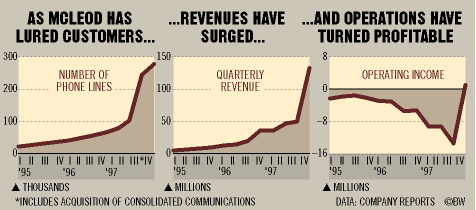 The resale approach does have a significant weakness: It's not profitable. McLeod uses local service as a loss leader so he can provide long-distance and other lucrative services. But he knows that in the future, he needs to make his local business profitable because U S West and Ameritech will eventually get into the long-distance arena and offer the same kind of bundled services. To fatten margins, McLeod is building his own 10,000-mile fiber-optic network. If regulations allow, he intends to transfer his resale customers onto his own network by 2000.
Analysts predict McLeod USA could capture up to 20% of the total Midwest telecom market by 2007--which would give the company revenues of $4.6 billion. McLeod has his sights set higher. "If it took us 10 years to get to 20% share, we would be sleepin' along the way," he says. Not likely for this native Hawkeye.
Before it's here, it's on the Bloomberg Terminal.
LEARN MORE