E Shop Till You Drop
Consumers are the big gainers as retailers brace for a Net onslaught
David Woodruff
Pekka Nurmiranta wanted to buy several hard-to-find tomes on marketing. Rather than scour the bookshops near his Brussels home, the 39-year-old manager at Siemens-Nixdorf Software hit the Internet. Several mouse clicks landed him at Amazon.com Inc., the online bookstore based in Seattle. He dropped three titles into his virtual shopping basket and paid with a credit card. The books arrived on his doorstep two weeks later. "Amazon was very convenient," he says.
Like Nurmiranta, European consumers increasingly are discovering the joy of shopping for everything from computers to groceries online. By 2001, nearly 7% of households will make cyberpurchases totaling $3.5 billion, up from less than 1% and $96 million last year, figures Datamonitor, a market researcher in London (chart). Experienced online merchants from the U.S., such as Dell Computer Corp. and Music Boulevard, are setting up multilingual Web sites to take advantage of the boom. A few European retailers, such as Germany's Otto Versand mail-order house, also are ready to cash in. But many more are scrambling belatedly to set up online stores.
For European retailers, the online surge will only sharpen an already brutal rivalry. E-commerce makes comparison shopping a whiz. It will unleash fierce price wars that may shake to their foundations retailers that have never faced unfettered competition before. The low cost of launching a cyberstore--as little as $1,500--reduces the financial hurdles for small specialty retailers intent on nabbing customers from bigger players.
CROSSING BORDERS. The arrival of a single currency in less than a year will make it that much easier for online retailers to sell across borders. And although online sellers don't save European consumers from the notoriously stiff value-added tax, they can eliminate duties if a company sets up shop on the Continent, as Dell has. Online sellers "have started to challenge local operators," says Jonathan Reynolds, a professor at the Oxford Institute of Retail Management.
So far, the most popular online purchases are of computer hardware and software, books, music, and travel packages. Sales of those items should grow fastest as more consumers shop on the Internet. Less than a year after launching cybersales in Europe, for instance, Dell brings in $1 million a day online. Some catalog merchants are showing good results as well. Otto Versand, which launched a Web catalog in 1995 selling everything from clothing to vacation packages, now garners 6% of its sales online.
Although some items clearly lend themselves more readily than others to cybersales, European consumers can already buy just about anything online. In Britain, a company called Eagle Star Direct offers auto insurance at attractive prices. Tesco PLC, Britain's No.1 supermarket chain, sells cases of wine via the Internet. An experimental home shopping service allows consumers in some parts of London to order groceries by computer. They are delivered for a small fee. Although the service is not yet available to general Internet users, demand has been so strong that Tesco may broaden the program.
European companies can find it tough going head-to-head with U.S. competitors. For example, because wholesale book prices in Britain are higher than in the U.S., online shoppers often get a better deal from Amazon than from the Internet Bookshop (iBS) in Cambridge, Europe's biggest online bookstore. Stephen King's novel Wizard and Glass costs only $14.30, including shipping to Britain. That's 32% lower than iBS's price.
Music Boulevard, a two-year-old, New York-based online seller of recorded music, is expanding aggressively in Europe and Japan, where CD prices average 30% more than in the U.S. The company, which carries 200,000 titles, already has a French-language Web site as part of a joint venture with publisher Hachette. Similar alliances are in the works for all major countries, and a European distribution center is planned for later this year, says Lawrence L. Rosen, CEO of Music Boulevard's parent, N2K Inc. That should push overseas revenues from 30% of sales, which totaled $11.2 million in 1997, to about 70% in the next several years.
Such aggressive growth has European companies hustling to respond. Bertelsmann, the German media giant, has a team preparing the technical framework for large-scale online sales in Europe. The company's book division, with annual sales of $4 billion, now has limited online ordering available only to members of its book club. Company officials acknowledge they're under pressure to respond to the threat from Amazon, Barnes & Noble Inc., and similar online competitors in bookselling.
Small specialty retailers are finding the Internet a cheap way to broaden their geographic reach. Spinnrad, a $100 million German retailer of environmentally friendly drugstore products, is spending $1 million to set up an online catalog that will be available later this year. The company, which currently sells only in Germany, will use the Internet to target ecology-minded customers as far away as Japan.
CARD WORRIES. There's still some resistance to electronic commerce in Europe. Europeans don't use credit cards as much as Americans do. Partly for that reason, they are more anxious about revealing card numbers on a public medium like the Internet, say analysts. The higher cost of going online remains a deterrent as well. Bertelsmann figures that 20 hours of online use in Germany costs $74--$54 for phone charges alone--vs. an average of $29 in the U.S. Moreover, consumers in southern Europe have been slow to join the computer age. Only about 10% of homes in Spain and Italy will be online in 2002, vs. 35% in technology-friendly Sweden, according to Datamonitor. And fewer than one-fifth of them actually will buy anything through the computer.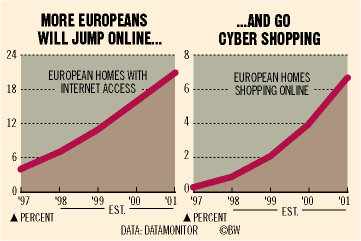 Europe's two biggest markets, Germany and France, will develop more quickly. In France, credit goes to Minitel, the text-based online service that France Telecom has offered for more than a decade. There are 6.3 million Minitel terminals in use, and consumers have become quite comfortable using them to shop. General merchandise mail-order house La Redoute, for instance, receives $333 million in orders annually that way, 17% of its total. Minitel is shifting its services to the Internet.
The biggest gainers from the move to E-commerce, of course, are consumers. Suddenly, they can bypass strict shop-closing rules in places like Germany and Austria. Comparison shopping is increasingly simple. And obscure products can be tracked down from the comfort of a desk chair. Is it any wonder that shoppers like Nurmiranta are ordering everything from shirts to software online?
Before it's here, it's on the Bloomberg Terminal.
LEARN MORE