Checking Out The Money Store
by
Since last summer, the Money Store (MON) has not been on the money where its stock is concerned: From 36 1/2 in late July, the shares dropped to a new low of 16 13/16 on Jan. 27. Investors' worries about credit quality, negative cash flow, accelerating loan prepayments, and competition have depressed the price. But some analysts, such as Edward Najarian of Wheat First Butcher Singer, believe the selling is over.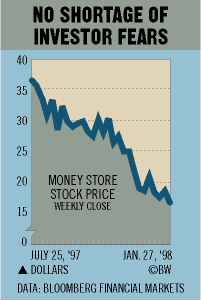 One California investment manager says the Money Store is being eyed by a large savings and loan for a buyout. He says earlier rumors that Household International was preparing an offer were groundless. Now, he says, the California S&L shows real interest. If a deal is struck, it would be for around $35 a share. The Money Store makes loans to customers who don't have access to traditional bank credit--mainly for home buying and improvements. The company is also the No.1 originator of Small Business Administration loans and is a provider of student loans. Last year, the Money Store lent more than $7.5 billion, up 50% from the year before.
According to a New York investment banker, the Money Store had previously held talks with the interested S&L about a possible joint venture. "It's likely," he says, "that the two parties will come to an understanding within a couple of months." The Money Store will provide its buyer with access to a higher-growth segment of the lending business, he says. Money Store spokesman Jeff Rogers declined to confirm or deny speculation.
Before it's here, it's on the Bloomberg Terminal.
LEARN MORE