Britain: Fingers Are Crossed For A Slowdown
by
In mid-January, Bank of England Governor Eddie George said the British economy needed to brake "quite sharply and quite quickly." Well, based on the Jan. 23 report on gross domestic product, George may have gotten his wish.
After bounding along at a four-quarter clip of 3.7%, real GDP in the fourth quarter rose a modest 0.5% from the third quarter, dropping the yearly pace to 3.1%. However, the jury is still out on the case for a further slowing in 1998--to a rate of about 2.5%--that is consistent with no speedup in inflation. But at the least, the latest data may forestall another interest-rate hike at the Monetary Policy Committee's meeting on Feb. 4-5.
The GDP data draw a clear picture of Britain's two-track economy. Service-sector output rose a strong 1% from the third quarter, resulting in a 4.4% pace from a year ago, while manufacturing output actually fell. Manufacturing is getting hammered by weak exports, the victim of sterling's 25% appreciation in the past 18 months.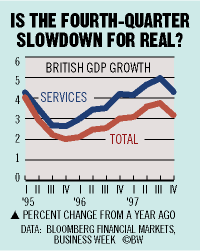 Services, fueled by strong consumer spending, is also showing hints of slowing down (chart), though the signs are not conclusive. For example, retail sales fell in both November and December, perhaps reflecting a waning of the consumer windfall resulting from the conversion of building societies to banks. But the latest survey by the Chambers of Commerce suggested continued service-sector strength last quarter, with deliveries up vs. the third quarter.
A lasting slowdown in domestic demand is what the central bank is looking for in order to quell the rising wage pressures resulting from Britain's 5% unemployment rate. Average hourly pay rose at an annual rate of 4.75% in November, after the MPC already had said that wage growth greater than 4.5% was inconsistent with its 2.5% target for underlying inflation, excluding mortgage costs. December's underlying inflation rate was 2.7%. However, given the recent data, the MPC has room to wait and see if the fourth-quarter turn in growth is real.
Before it's here, it's on the Bloomberg Terminal.
LEARN MORE