A Refugee Returns Home To Despair
James Drake
It isn't the kind of homecoming that Redzep Tahirovic expects. A U.N. aid vehicle drives through the bombed-out north Bosnian village of Kozarusa. It turns up a steep mountain cart track and five minutes later pulls to a stop outside a whitewashed stone cottage high on the hillside. For a moment, Redzep takes in the familiar scene: A battered scarecrow looks down from above the front door as protection against the evil eye; antique farming implements hang over the veranda; chickens and goats snuffle among the vines that mask the moonscape below.
"Nothing's changed," he murmurs, hopping out to greet a younger version of himself standing by the garden gate. "It's been a long time, Omer," says Redzep, his voice cracking.
"I'm happy to see you, brother," Omer replies stiffly, shaking hands. "But it's best you don't stay around here too long."
The two men last saw each in May, 1992. In one of the earliest instances of ethnic cleansing in the Bosnian conflict, soldiers from a nearby Yugoslav army barracks rounded up Kozarusa's Muslim inhabitants--99% of the village's population. A few, among them Redzep's wife and son, were murdered in an act of random violence. The rest, including Redzep, were thrown into concentration camps. To make sure the villagers didn't come back, the Serb soldiers dynamited their homes. After three months of internment, Redzep was released in a prisoner exchange and ended up in a refugee center outside Prague. He had begun rebuilding his life when, last May, Redzep heard that his brother's family was still alive. So, passing up the chance for a permanent-residence permit, he returned to Kozarusa and what remained of his family.
He should have looked at the map. Kozarusa now lies within the Bosnian Serb Republic, the ethnically Serb "statelet" that occupies half of partitioned Bosnia-Herzegovina. Cut off from the outside world during the Bosnian war, it saw some of the conflict's worst ethnic cleansing. Just how Omer and his family survived is unclear. They claim they simply kept their heads down. Extremists in the nearby town of Prijedor--a onetime Muslim bastion packed with embittered Serb refugees from other parts of Bosnia--have said they don't want refugees to return. They have warned Omer that if Redzep stays the family could be endangered. "Without him here," says Omer, "we're safe...for now."
Redzep's plight, while sad, is unexceptional. Last year, all but three European countries ended the "temporary refugee status" that was specially created to cope with the flood of escapees. Of some 225,000 Bosnians who returned home in 1997, 75% are still "internally displaced," or unable to settle permanently. Thousands still live in holding centers. Those who have found accommodations live in fear that they'll be turned out by returning prewar owners.
"POOR REDZEP." By comparison, the Czech returnees have fared better than most. "I take my hat off to the Czechs," says Christopher Bennett, an analyst with the International Crisis Group, a think tank in Washington. "Not only did they find housing for their people, they made damn sure there were no surviving claimants to the property."
With close to a million internal refugees in Bosnia, there isn't a lot of housing stock available. So Redzep is allotted a couple of rooms salvaged from a gutted building in a mostly deserted village. It's just outside Sanski Most, about 18 miles from Kozarusa.
Even brotherly visits are unlikely, for a while. While a large NATO peacekeeping presence guarantees the safety of a bus that runs between Sanski Most and Prijedor, local police check documentation at both ends. Those caught outside their own ethnic zone risk beatings, or worse. "Poor Redzep," says Michael Luhan, an American adviser to People in Need, a charity that monitored Redzep's stay in the Czech Republic and organized his repatriation. "I wish we'd tried harder to persuade him to stay put. I can't see a lot of options for him there."
He can say that again. Despite micro-credit projects backed by the World Bank, unemployment in Sanski Most is around 80%--the highest in the country. That's due, in part, to the political strings that are attached to humanitarian aid.
Most governments insist that relief money be spent largely on supporting their own domestic industries. So relief workers in the field complain that initiative and self-reliance are being stifled. "Instead of giving people grain to plant crops, they're sending flour and milk from their own food mountains," says Ingebor Kraus, a German social worker. "This place is full of experts and advisers and engineers who couldn't hold down a job back home."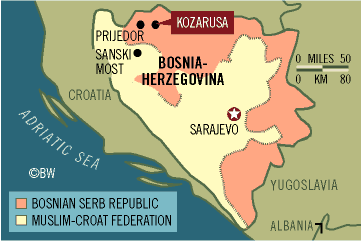 DUMPED. The irony of jobless Westerners seeking their fortunes in Bosnia isn't lost on Redzep, who is now unemployed. Back in the Czech Republic, he learned the language, got a job as a carpenter, and found a flat--the three requirements for a long-term foreigner residence permit. Most other European states spent 1997 deporting Yugoslav refugees--many of them in handcuffs because they refused to board planes voluntarily--to an uncertain future. But 10 times more have remained legally in the Czech Republic than have returned to their homeland. "The Czechs have relatively low unemployment, so there's work for anyone who wants it," explains Marie Pilatova of People in Need. "With the will to adapt, anyone could make it."
Redzep Tahirovic has sadly discovered that is not true at home. Dumped out in the countryside, surrounded by strangers, and rejected by his closest kin, he knows his prospects now are hopeless. "I wish I'd died in the camps," he says. "If I had a gun, I'd shoot myself."
Before it's here, it's on the Bloomberg Terminal.
LEARN MORE