A Nation That Opted For Divorce...May Find Itself Left Far Behind
James Drake
In the tiny hamlet of U Sabotov, tucked away among forested hills in the heart of what was once the Federal Republic of Czechoslovakia, a kind of bloodless ethnic cleansing has taken place. Fallen wooden slats expose the darkness of vacant barns. Freshly whitewashed cottages fronting well-tended gardens lie next to shuttered ones where chickens root among abandoned vegetable plots. "There's no life here anymore," laments longtime resident Bogdana Horackova.
Historically, this village was proudly Czech, but during the '50s and '60s authorities allowed newcomers like Horackova from neighboring Slovakia to build homes here. Speaking similar languages, the groups integrated quickly, and intermarriage was common.
But in the split-up of Czechoslovakia on Jan. 1 five years ago, U Sabotov was ceded to Slovakia--and a new frontier post was set up at the western end of the main street. When Prague offered $50,000 a head to any Czech villagers who wanted to relocate across the new border, most took the money and ran. "I have to say I envy them," says Horackova of the emigrants. "They have new lives. It feels like I'm stuck in the middle of nowhere."
The sense of Slovak alienation isn't confined to U Sabotov. While the Czech Republic was invited last July to begin talks on NATO membership and in December to open negotiations on accession to the EU, Slovak applications to join both bodies were all but laughed out of court. "There's a feeling that the Czechs have received preferential treatment," says Jonathan Stein, an analyst with the Institute for East-West Studies, an independent think tank in Prague. "It's like, `How come the Czechs are the golden boys?"'
The answer probably lies in the Czechs' superior strategic location and democratic culture. In fact, Slovakia, under Prime Minister Vladimir Meciar, has become Central Europe's bete noire. In power for most of the past five years, Meciar heads a coalition of communists, far-right nationalists, and wheeler-dealers with little in common but a penchant for putting their feet in their mouths. When a mass exodus of asylum-seeking Slovak and Czech gypsies to Canada and Britain overshadowed last year's EU discussions, for example, Czech politicians at least went through the motions of pledging to clean up racism. Slovak Deputy Prime Minister Jan Slota, by contrast, snorted that the way to deal with gypsies was with a "long whip and a small yard."
Since then, Meciar & Co. have temporarily shut down hostile radio stations, banned critical journalists from state press conferences, and refused to act on evidence implicating the Slovak secret service in assassinations and kidnappings. Finally, just before the December EU talks, Meciar orchestrated the expulsion from parliament of a onetime ally who had joined the opposition. "That was the last straw," groans Jan Marinus Wiersma, the European Parliament's delegate to the Slovak capital, Bratislava. "It was almost calculated to sink Slovakia's chances of getting into the EU."
Not content with being the most powerful politician in this nation of 5 million, Premier Meciar is poised to become President, too. On Jan. 26, one government coalition party nominated him for the post, and he seems sure to win the parliamentary vote. He will replace Michal Kovac, whose term ends on Mar. 2. Meciar's ascension should end an often dirty feud between the two that has been running ever since Kovac called unsuccessfully for a referendum on defederation, predicting that an independent Slovakia would one day find itself on the wrong side of a new iron curtain separating Europe's haves from the have-nots.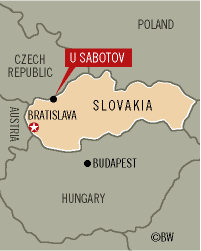 Five years later, Kovac is convinced he was right. Although the Czech-Slovak border is still one of Europe's most porous--the U Sabotov customs post comprises no more than a couple of prefabricated huts where gum-chewing guards wave through locals without an ID check--security will inevitably be beefed up as Czech EU membership comes nearer. "At the moment, it's the Germans and Austrians who are protectionist about Czech trade and labor," notes Kovac. "But once the border shifts eastward, the Czechs will be shutting us out." When that happens, he adds, he'll get no satisfaction from saying to Meciar, "I told you so."
Before it's here, it's on the Bloomberg Terminal.
LEARN MORE