U.S.: Domestic Demand May Offset Wobbly Foreign Trade
Shoppers and home buyers look ready to dominate the first half
by
There is a battle raging within the economy, and the victor will decide how first-half growth shapes up. On one side is the small but strategic foreign-demand sector. Asia's financial crisis is threatening to weaken exports and balloon the trade deficit so that economic growth suffers. Behind the ramparts are the much bigger forces of strong domestic demand, led by battle-ready consumers and homebuilders who are gearing up to repel the attack.
So far, the news from the front is sketchy. The latest trade data run only through November, and they show little damage. The November trade gap actually narrowed sharply, but the brunt of the downdraft from abroad will not hit until the first quarter.
Still, the foreign-trade sector will have a tough time trying to dent overall growth. The Federal Reserve's Jan. 21 update on conditions in the Fed's 12 districts through early January says that "the impact of Asian financial turmoil was felt in most districts," as manufacturers and agricultural firms reported weaker exports and increased competition in U.S. markets. But the Fed also reported that labor markets remained "tight to very tight" and that overall factory activity remained "fairly strong."
Indeed, domestic economic supports ended 1997 even stronger than they began the year. And early 1998 readings show robust retail activity, high household optimism, and rising mortgage applications, suggesting that consumer spending and homebuilding are beginning 1998 with increasing momentum.
Moreover, the manufacturing sector, where any Asian impact on growth will be concentrated, finished 1997 without even a flinch. Industrial output rose strongly (chart), lifting capacity utilization to a two-year high, and factories beefed up their payrolls. As a result of vigorous production gains, inventory growth appears to have picked up last quarter. But amid strong domestic demand, stockpiles are unlikely to become excessive.
FOR THE QUARTER JUST ENDED, the economy appears to have sped up the 3.2% pace in the second and third quarters. Indeed, when the Commerce Dept. reports its initial estimate of fourth-quarter gross domestic product on Jan. 30, real GDP may well have expanded in the neighborhood of 4%.
Growth last quarter was led by an advance of about 3% in consumer spending. That would be down from the blistering 5.6% pace in the third quarter, but still sturdy. Housing outlays picked up, as did inventory growth, while capital spending on equipment slowed.
Trade turned out to be a plus for fourth-quarter growth (chart). The November trade deficit for goods and services narrowed to $8 billion from October's $9.1 billion gap, which had been revised lower from $9.7 billion originally. As a result, foreign trade alone likely added more than half a percentage point to GDP growth.
The November data do suggest some slowing in the growth rate of exports, which fell 1.3% in the month. The drop was led by capital goods, which are expected to take the biggest hit from weaker Asian demand. Adjusted for prices, exports of goods grew 14.8% from a year ago, but that's down from a yearly pace of 26.8% in July, when the Asian currency crisis began.
November imports fell more than exports, dragged down partly by falling oil prices. However, the yearly growth rate of real merchandise imports continues to outrun the pace of real exports.
BUT NOW, ATTENTION IS ON the first quarter. To be sure, the trade deficit is set to widen this quarter, taking a chunk out of economic growth, if only because of the seasonal-adjustment quirk that has caused the gap to increase in each first quarter for the past six years. Any Asian-led weakness will add to that widening.
However, increasing evidence points to a new burst of demand for consumer goods and housing, stemming from the sharp drop in interest rates in recent weeks and continued strong growth in household real income. For example, the January housing-market index, a survey of builders' assessments of market conditions, remained at December's high level of 59. Also, the Mortgage Bankers Assn.'s weekly index of mortgage applications to buy a home surged 13.6% on Jan. 9, to a record level of 266.
More important for overall consumer spending, the MBA's index of applications to refinance, already at levels not seen since the 1993-94 refi boom, nearly doubled from 972.7 on Jan. 2 to a record 1,842.5 on Jan. 9. The subsequent boost to the monthly cash flow of many homeowners will come at a time when the inflation-adjusted aftertax income of households is already rising at a rate of nearly 4% from a year ago.
Little wonder, then, that consumer spending has been able to match that heady pace over the past year, with no apparent slowing in January. The weekly retail survey by LJR Redbook Research shows that seasonally adjusted retail sales in the first two weeks of the month rose a strong 1.8% from December.
VIBRANT DOMESTIC SPENDING will cushion the blow from abroad on the manufacturing sector, which exports about one-fourth of its products. But keep in mind that only 20% of those exports go to Asia, excluding Japan, while 31% head to thriving markets in Canada and Mexico.
Those trade patterns, along with booming U.S. markets, is why manufacturing production, employment, and hours worked remained so strong in December, when Asian impact on demand may have been starting to show up. Industrial production increased a solid 0.5% in December, after rising an even more robust 0.8% in November. The output gains boosted overall capacity utilization to 83.4%, the highest since September, 1995.
In the manufacturing sector alone, output rose 0.5% in December, after surging 1.2% in November, but ups and downs in auto production caused that slowdown. Excluding cars and trucks, factory production rose a solid 0.9% in November and 0.8% in December. After smoothing out the monthly gyrations, factory output in the quarter increased at an annual rate of 8.3%, the largest quarterly gain in three years.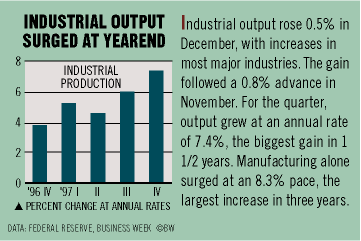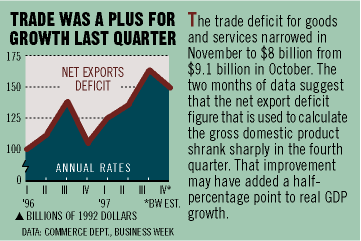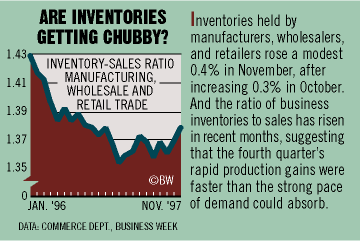 One potential cause of slower economic growth in early 1998 could be fatter inventories. In November, inventories held by manufacturers, wholesalers, and retailers rose a moderate 0.4%, after growing 0.3% in October. The ratio of inventories to sales has risen somewhat in recent months (chart), suggesting that the fourth quarter's production gains were faster than the pace of demand could absorb, and first-quarter inventory growth bears watching.
But if spending remains strong this quarter, excessive inventories should not pose a problem. The key to the battle will be the growth in domestic demand. And right now, those home forces look strong enough to withstand anything the foreign-trade sector is likely to dish out.
Before it's here, it's on the Bloomberg Terminal.
LEARN MORE