Not The Last Gasp For Respironics
by
Shares of Respironics (RESP) have been on the skids since it announced in November it was acquiring Healthdyne. Often shares of acquirors drop, but sometimes they rise--or fall only modestly. Respironics fell from 30 to 20 by Jan. 13. A buying opportunity? Elliott Schlang, managing director at the Cleveland investment firm Lynch, Jones & Ryan, thinks so.
The stock has dropped to "an irresistible bargain"--at just 16 times estimated 1998 earnings, for a company growing more than 20% a year, argues Schlang. The stock edged up to 22 lately, and he expects it to hit 33 in six months and 40 in a year "despite the risks inherent in any sizable merger."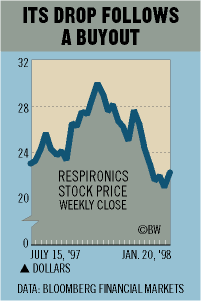 Respironics makes products for obstructive sleep apnea, and Schlang thinks the acquisition of Healthdyne, which makes medical devices, including products to treat sleeping disorders, will bump up the earnings. Respironics controls 45% of the world market for sleep apnea therapy, notes Schlang, where sales have been growing 25% a year. About 5% of American adults and 3% of children suffer from sleep apnea.
Respironics is expected to earn $1.23 a share for the year ending June 30--without Healthdyne. Next fiscal year, earnings should rise to $1.50, including Healthdyne's contribution-- estimates Schlang. Gross margins of 55% and net returns of 11% on sales and 14% on equity, he notes, reflect the strength of Respironics in its market.
Before it's here, it's on the Bloomberg Terminal.
LEARN MORE