Navistar: Gunning The Engines
Lower labor costs and streamlined operations help it rally
De'Ann Weimer
Early last year, things were looking bleak for Navistar International Corp. After decades of crippling labor problems and manufacturing snafus, the $6.4 billion Chicago truck and engine maker had suffered another steep earnings slide in fiscal 1996. Then, in a showdown with United Auto Workers members over costs, CEO John R. Horne had been forced to scrap the company's latest truck introduction. By April, disheartened investors let the stock drop to $9 a share, just 50 cents above its low.
That's when Horne called his 30 top executives into his office to make a personal plea. Looking for a show of faith in the company, he implored all of them to spend their own money to buy as many shares of Navistar stock as they could. Horne knew it was a lot to ask. Between 1986 to 1996, the company--once known as International Harvester--had tallied the worst total return to shareholders of all publicly traded U.S. companies. But he was convinced that if his managers bought, Wall Street would see that as a sign that Navistar's fortunes were turning.
Management's reply was a unanimous no. Many felt that Navistar's shares might drop as low as 6, and all 30 backed away. So Horne bit the bullet alone, buying as much as he could for cash and also turning his 401(k) account entirely into Navistar stock. "I couldn't force them because it was their money," he says. "I laugh at them some now."
All the way to the bank, he might add. By the end of 1997, Navistar's stock hit 25, a blazing 172% return to shareholders. In part, the turnaround came thanks to a strong economy and a fortuitously timed boom market for trucks. But Horne, 59, is also reaping the rewards of his fight with the UAW over labor costs and a four-year-long restructuring that is finally taking hold. Indeed, although analysts expect the overall market for heavy-duty tractors and midsize trucks--Navistar's bread and butter--to cool by fall, many believe the revived company could end up stealing share from rivals.
DOG DAYS. "Horne has done a magnificent job," says David Pedowitz, director of research at New York's David J. Greene & Co. brokerage firm, the largest outside investor with a 5% stake. "For the first time since the breakup of International Harvester, they're in a position to be a world-class competitor."
Certainly, Horne--a 31-year company veteran who stepped up as president in 1991 and as CEO in 1995--has brought Navistar a long way from its dog days in the late 1980s. A UAW strike against International Harvester in 1979, along with the recession, nearly bankrupted the company, which spent most of the decade shrinking just to survive.
But under Horne, Navistar began a wide-ranging overhaul of its remaining truck and engine manufacturing lines. He started by drastically slicing the number of products Navistar made. Assembly was rationalized too. While Navistar plants used to build multiple trucks for several different markets, today each one specializes in one type of truck with fewer models.
Just as important, Horne got Navistar working on new models again for the first time in years. Having brought out few new products during Navistar's long slide, most of the company's models were aging. But to make sure the new products pay off, Horne also introduced tight financial discipline: Today, new proj- ects only win the nod if they can earn a 17.5% return on equity and a 15% return on assets through a business cycle.
EASY PART. Navistar's diesel engine business was the first to be worked over. Horne immediately cut the number of engines in production to two, down from 70 in the mid-'80s, for example. And by 1994, with Navistar's balance sheet improving, he introduced a new engine.
Navistar's offering, still the cleanest burning model on the market, quickly attracted major truck manufacturers such as Ford Motor Co. Ford puts the engine in vans and pickups and will soon offer it on its hot Expedition sport utility vehicle. Thanks largely to this model, Navistar's share of the diesel engine market rose from 25% in 1990 to 38% today. That's one big reason operating results climbed from a $355 million loss in 1993 to a $266 million profit for the fiscal year ended last October.
Still, that was just the easy part. Tackling problems in Navistar's truck and tractor division proved far tougher. Two years ago, for example, Horne laid out a plan to introduce a new generation of trucks. By simplifying the design of components, Horne hoped to bring out a series of truck and trailer models with interchangeable designs and standardized parts, thus cutting costs while reducing errors on the assembly line. Horne's goal: to reduce the 19 heavy-duty and medium truck designs in his main Springfield (Ill.) plant to one or two.
But before he got that far, Horne ran smack into the problem that has dogged Navistar for more than a decade: He needed significant concessions from the UAW, which represents almost 80% of Navistar's truck workers. Horne demanded a wage freeze until 2002 and the flexibility to consolidate production. He took a direct approach. "I showed them the books," he says. "They knew survival of the plants depended on the changes."
Union leaders may have known it, but U.S. union members weren't convinced. They rejected the contract outright in August 1996. Convinced that he could never achieve his profitability goals without the changes, Horne cancelled the new trucks. He took a $35 million charge and made clear his next step would be to look abroad for lower labor costs. By August 1997, the workers folded their cards and approved the plan. Horne's tough stance has paid off. He quickly revived plans for the new truck. And since the new labor contract and other manufacturing changes went into effect last fall, productivity at U.S. plants has already risen 15%.
Even as it enjoys its status as most improved player, however, Navistar has plenty of battles ahead. The company's long decline has strengthened its competition, particularly Freightliner Corp. of Portland, Ore., which is owned by Germany's Daimler Benz and is now No. 1 in the heavy-truck market, a position Navistar held in 1990. Meanwhile, No.2 PACCAR Inc. of Bellevue, Wash., has gained share by giving truckers what they want: bigger cabs, longer hoods, and lots of chrome.
Navistar is fighting back with two new heavy-duty truck lines produced in Canada, where the union contract was ratified a year ago. Navistar dealer Jerome J. Wahoff of Center City International Truck Inc. in Columbus, Ohio, says Navistar's new cab models such as the Sky-Rise Pro Sleeper will help the company gain market share in the first half of this year. Even rivals at Freightliner concede Navistar is becoming a "tougher competitor."
MEXICAN WAY. Still, no truck makers can count on the market's remaining as strong this year as last. Partly because of the strike against United Parcel Service and disrupted rail service in the wake of Union Pacific's troubled merger with Southern Pacific, sales of tractor-trailer rigs jumped an unexpected 10% in 1997.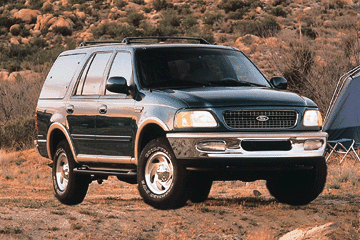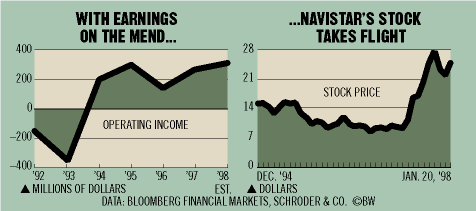 With those gains unlikely to continue, Horne is looking elsewhere for growth. He has spent $167 million on a new Mexican plant that produces trucks for still strong markets such as Brazil and Mexico, for example. It also lets Navistar, which has a contract with Ford through 2013, stay close to that company's Latin American markets. Navistar already enjoyed explosive growth in the Mexican truck market, where it expanded sharply in 1996 and has built a 11.5% market share.
Horne has some time to keep inching ahead. Until 2002, Navistar's profits should be sheltered by the $2 billion in tax-loss carryforwards it accumulated in the 1980s. In the meantime, Horne continues to spread his penny-pinching gospel. Indeed, though he's a big basketball fan, he won't buy courtside seats to see his favorite competitor, Chicago Bulls' Michael Jordan, hit the court. When Horne does make it to a home game, it's as a guest. He has other things to do with the fortune he's made in Navistar stock. Like reinvest.
Before it's here, it's on the Bloomberg Terminal.
LEARN MORE