Fresh Oil Money Pumps Up Caracas...And A Sleepy Town Stirs, Too
Jane Knight
Glance at the forest of placards greeting travelers in the arrivals hall at Simon Bolivar International Airport, and you might think you had taken the wrong flight--to Houston. "Mobil," "Amoco," "Texaco"--the list goes on, with each sign attracting clusters of men in suits. Outside, swank black cars wait to take their charges to the marble offices of oildom.
But this isn't Houston. It's Caracas, Venezuela's capital of 5 million people, which is being transformed as an oil bonanza comes to town. "I think Caracas is now the oil capital of the world," says Jose Toro Hardy, director of state oil company Petroleos de Venezuela (PDVSA). Even slumping oil prices, to about $13 a barrel in Venezuela, haven't dampened spirits much. "Everybody considers the price drop temporary. It won't affect investment projects," insists Toro Hardy--especially since the multinationals' investments are all aimed at the medium to long term.
FACE-LIFT. This is not the first oil boom to hit Venezuela. But coming two decades after the industry was nationalized and on the heels of an economic recession, it could be the biggest. And it's pulling in new players--from China, Argentina, and elsewhere. "More than 100 oil companies have set up in Venezuela in the past three years," says Raul Maestres, general manager of executive recruitment firm Korn/Ferry International in Venezuela. The cash-hungry government of President Rafael Caldera hopes to more than double production capacity, to 6.7 million barrels a day, in the next decade. Since the doors to private investors were opened in the early 1990s, deals that will pump in more than $50 billion have been signed.
The oil rush has gotten the economy rolling, with gross domestic product rising 5.1% last year, compared with a 1.5% contraction in 1996. Falling oil prices have cut growth estimates back from 6% to a still healthy 4.5%. And Caracas has gained an instant face-lift. Towering office blocks have sprouted. Rents have soared by 40% in the past year. Newspapers are full of advertisements for oil-industry personnel. Restaurants half-empty not long ago now have lines of diners waiting for tables. And supermarkets all over the city are clearing shelf space for imported goods to suit the tastes of their new clients. English is spoken more than Spanish by customers at the Gourmet Market shop and restaurant, within two blocks of at least six oil majors in the business district of Chacao. "The difference from last year is amazing," says owner Nicolas Scardino, who was earlier forced to close a cafe on the same site.
The travel industry is also cashing in. Continental Airlines Inc. has just inaugurated a direct Houston-to-Caracas flight, targeted at oil executives. American Airlines Inc. has added a daily link to Dallas. Hoteliers report occupancy rates up as much as 20% in the past year. And at the magisterial Tamanaco Hotel, a traditional gathering place for oilmen, it's hard to get a room during the week. Crows Rafael Tudela, hotel president and oil entrepreneur: "We've gone back to the good old days."
The new order isn't confined to Caracas. As oil production shifts from the traditional heartland around Lake Maracaibo in western Venezuela, all eyes are trained on the east. Most development is expected in Monagas state, where PDVSA estimates that production will increase from 1.1 million barrels a day to 2.3 million within seven years.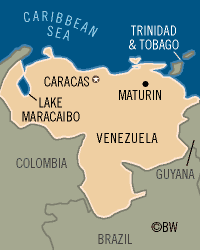 Maturin, the state capital, with a population of more than 350,000, is still a sleepy backwater. The movie theater on the main street looks seedy, shops close early, and good hotels are scarce. Agriculture and cattle are traditionally the largest employers in the state. But there are signs of the town waking up. British Petroleum Co., which has several fields nearby, plans to move its operations here within a year into part of an office park sprawling over 15 hectares. Other oil companies are expected to follow suit. "Infinite opportunities are opening up in Monagas for investors in real estate, commerce, services, and leisure," says state Governor Luis Eduardo Martinez. At the tiny but tidy airport, planes arrive jammed with businesspeople. And in the most important leading indicator, taxi drivers have caught on to the fact that a foreign accent means double the fare.
Before it's here, it's on the Bloomberg Terminal.
LEARN MORE