Canada: Growth Slips In The Ice Storm
By
The Canadian economy ended 1997 with enough energy to bode well for growth in early 1998. Then the ice came.
The good news was widespread at yearend. Holiday retail sales were robust. Housing starts unexpectedly rose in December. While new factory orders were flat in November, they were up 9.8% from a year ago, and unfilled orders surged 23.4% (chart). Real gross domestic product likely grew at an annual rate of 3 1/2% to 4% last quarter. For 1997, real GDP grew about 4%--the fastest in three years.
But the best news came on the labor front. December payrolls surged 61,700, with factory jobs up by 28,000. And the jobless rate fell to 8.6%, a seven-year low. Better job prospects will lift consumer spending, as will the drop in mortgage rates, since most Canadian mortgages carry adjustable rates. That's why--before the ice storms devastated parts of Quebec, New Brunswick, and Ontario--the economy was set to grow more than 4% this quarter, on its way to a 3.7% gain for all of 1998.
But the storms will alter first-half growth. Tim O'Neill, chief economist of the Bank of Montreal, has cut his forecast of first-quarter GDP growth by half a percentage point, to 4%. He says that a rebound in consumer outlays, the rebuilding of the electrical grid, and home repairs should enable second-quarter growth to recoup some--but not all--of the lost output.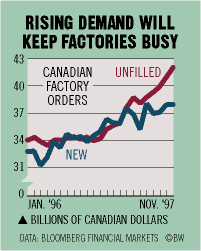 Out west, Asia will hurt more than the weather. Major industries such as lumber, agriculture, and minerals already are seeing a drop in Southeast Asian demand. If commodity prices fall further, growth will suffer even more.
The Asia crisis also is hampering monetary policy. The Bank of Canada probably would like to hike short-term rates to defend the sagging Canadian dollar. It last raised rates by a half-point on Dec. 12, but at 4.5%, the BOC's overnight lending rate is still a point below the Federal Reserve's federal-funds rate. For now, though, ice and Asia will likely preclude the BOC from making any further moves.
Before it's here, it's on the Bloomberg Terminal.
LEARN MORE