Aspect's Sales Get Plugged In
by
In December, Romesh Wadhwami, CEO of Aspect Development (ASDV), got a surprise call from a customer in South Korea: electronics biggie Samsung. Despite the country's economic woes, Samsung was placing an order even larger than its last one--welcome news indeed. (Asia represents nearly 8% of Aspect's sales.)
Shares of Aspect, which supplies manufacturers with a virtual electronic catalog of 2 million component parts from 720 suppliers worldwide, didn't crash--unlike many other technology stocks lately. It hit a 52-week high of 53 3/4 on Jan. 5, 1998. Now at 49, Aspect still looks richly priced, based on its hefty price-earnings ratio--69.5 times estimated 1998 earnings. But some pros think the stock has a ways to run.
Aspect has two products: a database with information on parts and where to get them and software to help manufacturers search the database, which also helps manage their inventories.
What's Aspect's allure? It helps design new products cheaper and faster. When a company has already streamlined operations and cut the workforce to a bone, it is able to trim costs some more by using Aspect's products in efficiently managing the buying of parts and supplies, says Andrew Lanyi of CIBC Oppenheimer.
Parts can account for 70% of the overall cost of a product, he notes. One study shows that by using Aspect's systems, factories can achieve savings of 1% to 5% of revenues. Such savings in components show up on the bottom line, says Lanyi, who figures Aspect earned 44 cents a share in 1997 and will make 69 cents in 1998 and $1.04 in 1999. He wouldn't be surprised if Aspect were to beat the estimates.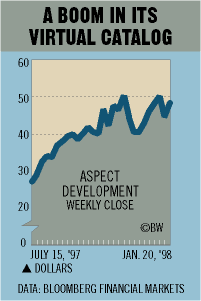 Aspect is a leader in a rapidly growing market. "We believe it is well-situated to gain more share," says William Lanzon, managing director of Dain Bosworth, a Minneapolis investment bank. Aspect is in a new industry that is expected to approach $1 billion in sales by 2000. Lanzon figures Aspect's earnings will grow 50% a year for five years. He notes that 35% of sales come from repeat orders. And with gross margins in the mid-80% range and renewal rates at 90%, "the recurring revenue stream gives our estimates more predictability," says Lanzon.
Aspect's customers are a hit parade of blue chips: IBM, General Motors, and Boeing in the U.S.; Alcatel, Thomson-CSF, Ericsson, and Philips in Europe; and Matsushita, Toshiba, Seiko, and Hyundai in Asia.
Before it's here, it's on the Bloomberg Terminal.
LEARN MORE