A Dip In Chips?
Maybe not. Asia's crisis could barely dent U.S. companies
Otis Port
Chipmakers in the U.S. are getting beaten up on Wall Street these days. Since October, the Philadelphia Stock Exchange's semiconductor index has plunged more than 30%, largely on fears that Asia's financial El Nino will wreak havoc in Silicon Valley. On Jan. 21, Texas Instruments Inc. provided fresh evidence of profit pressures when it reported lower-than-expected earnings due to plunging prices during late 1997 and warned that Asia's woes would "put pressure" on the company's first-quarter results.
But the outlook for U.S. chipmakers and equipment suppliers isn't nearly as bleak as their stocks indicate--for two reasons. First, the global sales figures reflect the ravaging effects of the free-fall in prices for dynamic random-access memory chips. DRAM shipments continue to swell, but revenue peaked in 1995 at $41 billion and has been plunging ever since. These figures, however, don't reflect what's happening in the U.S. because few U.S. companies make DRAMs. Even at Texas Instruments, DRAMs account for only a fifth of its chip business. Cross out DRAMs, and 1997 sales growth was 11%, almost double the 6% gain when DRAMs are included.
THRESHOLD. Second, the need for new chipmaking equipment shows no signs of softening. Indeed, plummeting DRAM prices are spurring demand. Unit production last year was 90% higher than in 1995. To keep up, even Asia's beleaguered DRAM makers "have got to keep buying equipment," says G. Dan Hutcheson, president of VLSI Research Inc., which tracks the equipment industry. Many DRAM makers also will be ordering new equipment for the transition to the next generation of DRAMs, which store 64 megabits of data.
Last October's forecast by the Semiconductor Industry Assn.--predicting 1998 sales would increase 17%, to $163 billion--is now widely dismissed because it assumed a 21% gain in Asia-Pacific sales. But even if demand in Asia remains flat, worldwide sales would still climb 12%. And zero growth in Asia is unlikely, since most sales to Southeast Asia are "transshipment" sales: The chips get inserted into products that are sent back to the West.
Thus, some markets where U.S. companies dominate may barely notice Asia's problems. Take digital-signal processing (DSP), where Texas Instruments is the leader. DSP chip sales should jump 30% this year, says William I. Strauss, president of DSP market researcher Forward Concepts Co.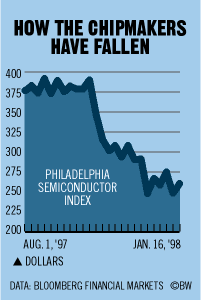 In fact, chipmakers could be on the threshold of the next cyclical upswing. Moshe Handelsman, president of Advanced Forecasting Inc., which is based in Cupertino, Calif., predicts future sales of semiconductors and production equipment by analyzing demand for the finished products that use chips. "This underlying demand is pretty strong," Handelsman says--so strong that he's now looking for a replay of the boom that swept the industry from 1993 to 1995. That's when semiconductor sales practically doubled, from $77.3 billion to $144.4 billion. For chipmakers everywhere, it can't happen too soon.
Before it's here, it's on the Bloomberg Terminal.
LEARN MORE