A Blessing For Cuba And A Gamble For Fidel
Gail Reed
The hearty hymn bursts from Havana's waterfront Church of Our Lady of Regla, the Black Virgin of Cuba and patron of seafarers: "Sing Hallelujah to the Lord!" The faithful at Our Lady of Regla cram the pews, the aisles, and the cobblestone drive that leads down to the bay. The jubilance of churchgoers tonight contrasts sharply with the mood during my previous visit, at the time of the 1994 raft crisis. Then, the altar was lined with candles for loved ones among the 30,000 Cubans who had set out for Florida on flimsy, homemade craft. The priest that day sought to comfort his hushed parishioners, to mitigate despair.
Today's joyful ceremony, against the backdrop of modest economic renewal, reflects the revival of religious faith in Cuba that will culminate in the Jan. 21 visit of Pope John Paul II. Lidia Hernandez, 50, lifts her eyes to the huge banners that decorate the yellow and pale-blue walls. They proclaim: "John Paul II Blesses the People of Regla" and "Blessed Be the Name of John Paul II!" The Pope, Hernandez says, "will help restore our faith in the future."
It's not only faith that's likely to be restored. Cuban President Fidel Castro is betting the visit will bring a chance for friendlier relations with the U.S. While the ailing Pope, 77, wants to solidify the Church's gains in the hemisphere's communist bastion, Castro, 71, is counting on the visit to put pressure on the U.S. to ease its 36-year embargo. The Vatican also opposes the embargo, claiming it causes undue suffering, especially for poor Cubans.
BIG MONEY. Sanctions, which the Cuban government claims have cost this country $60 billion in lost revenues, have been especially painful in recent years. The collapse of the Soviet Union caused an 85% drop in Cuban trade and ended Eastern Europe's preferential treatment of Cuba. Castro believes that gains from a less restrictive U.S. embargo are worth the threat of a more powerful Roman Catholic Church.
The visit itself is an economic boon and should bring in some $20 million, according to the Cuba Trade & Economic Council, a business group. Foreign television networks are paying $130,000 each for television feeds of papal events.
Visitors are snapping up everything from cell phones to shellacked photos of John Paul II and Castro during their encounter a year ago in Rome. Cubacel, a Mexican-Cuban joint venture and the only cellular-phone company here, is charging rates up to 90 cents a minute. Hotels, which have jacked up rates, have been booked for months. One foreign network with 150 rooms at the Havana Libre Hotel brought in $20,000 worth of soft drinks with its equipment, to avoid paying the hotel's $2 per-can price. Customs officials confiscated it.
The Pope's visit to Cuba is the outcome of a gradual church-state rapprochement that goes back a decade and involves Protestants as well as Catholics. In the 1960s, in retaliation against the Catholic Church's opposition to his government, Castro expelled more than 100 priests and expropriated church properties. Worshipers were suspect.
In 1985, leaders of 54 denominations met with Castro and pleaded for an end to intimidation and discrimination. In 1991, the Communist Party opened its membership to churchgoers. A year later, Parliament proclaimed that Cuba was secular, not atheistic, and pastors were seated in the legislature. Last year, Castro declared Christmas a public holiday for the first time since 1969 (when it was scrapped, ostensibly to keep workers in the fields for a record sugar harvest). And Castro has lambasted the international press for suggesting that he will crack down on worshipers and fire state employees who opt for Mass instead of work during the five-day papal tour.
Clearly, Cuba's Catholics feel secure in practicing their religion these days. Attendance at Mass has doubled since 1992. In Havana, where 33,000 were baptized last year (up from 7,000 in 1979), church weddings have doubled in less than a decade. Julia lvarez, 68, says she has returned her figure of Santa Barbara to its living-room niche after 30 years' exile in a bedroom. "I don't feel nervous about her now."
TRADE-OFF. "My parishioners used to leave the community to be baptized, so their neighbors wouldn't find out," says Monsignor Angel Perez, who retired three years ago from Our Lady of Regla after 43 years. "Now, they stay here." And their numbers are likely to grow since the Pontiff hopes to bring back to the flock a goodly share of Cuba's 4 million baptized Catholics (about 35% of the population). Just 500,000 are active now.
As a trade-off for easing restrictions, Castro is calculating that the U.S. will consider concessions. In Washington, bills allowing unfettered sales of medicine and food to Cuba have already been introduced in Congress. They're supported by many U.S. churches, as well as the U.S. Chamber of Commerce. On Jan. 13, Americans for Humanitarian Trade with Cuba, a new coalition of business, religious, and humanitarian organizations, announced its support for the bills.
Until recently, few U.S. companies were willing to risk the ire of the Cuban exile community by publicly opposing the embargo. But that's changing, too. "There's a convergence of interests, and the Pope's visit is clearly the catalyst," says William C. Lane, director of governmental affairs for Caterpillar Inc. He's also chairman of USA Engage, whose 650 members oppose unilateral sanctions. The Pope's visit "will encourage the business community to speak out to urge a change in policy toward Cuba," Lane adds. "Lifting the embargo against food and medicine would be a good first step."
Cubans are encouraged. Vladimir Palacios, a 28-year-old hotel bellboy who--yes--was named after Lenin, is a frequent worshiper at Our Lady of Regla. He donates a portion of his tips to the city's cancer wards. "Why would anybody think banning medicine sales is going to topple Castro?" he asks.
Palacios all but shouts to be heard over the tambourines and electric guitars playing inside the church. The choir belts out a version of the Gloria with notes curiously similar to La Bamba. Music is just one example of how Catholicism has evolved from the rigid church of the prerevolutionary 1950s. The congregation applauds. Lay women read scripture. Today's Catholicism is more openly mixed with African religious beliefs that go back to slave days. Outside, a man casts coconut shells in the ancient rites of Yoruba beside worshipers who pick up leaflets about the Pope's visit.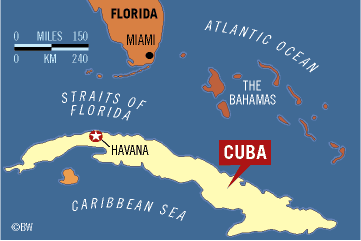 Havana's Revolution Square, once reserved for revolutionary rallies and marches, will be the site of the final papal Mass. Carpenters put the finishing touches on a covered altar. "We want the Pope to return to Rome thinking this has been the best trip he has ever taken abroad," Castro told Parliament recently. Asked by a group of Protestant ministers whether he expected Catholics to fill Revolution Square, Castro replied: "If they don't, then we will." For both Fidel and the faithful, there's too much at stake for the visit to be anything but a resounding success.
Before it's here, it's on the Bloomberg Terminal.
LEARN MORE