Spain: The Turnaround Has Room To Run
Spain's stunning transformation from a euro wannabe to an indisputable first-round candidate for Europe's single currency is set to continue in 1998.
Powered by falling interest rates and improving labor markets, strong domestic demand has pushed Spain's annual growth rate to nearly 4% through the third quarter of 1997, and that pace should prevail in 1998. Consumer spending, construction, and outlays for business equipment will lead the way. Also, Spain's exposure to fallout from Asian turmoil is one of the smallest in Europe.
The consumer outlook is especially bright. At yearend, retailers reported strong holiday sales, up some 25% from a year ago, while both car sales and consumer confidence were near the record levels of the late-1980s boom. Also, industrial output is climbing (chart).
Stronger labor markets are a big plus. In fact, in 1997, Spain created half of the European Union's projected 700,000 new jobs. But as payrolls grow, better job opportunities are pulling more people into the labor force, keeping the jobless rate at 20%, double Europe's average.
Spain's other boost is from low interest rates. The Bank of Spain cut official rates six times in 1997, to 4.75% currently, nearly half of their 9.25% level of two years ago. The BOS says rates will fall further, perhaps to 4% by yearend 1998, as Spanish rates converge with German rates prior to monetary union.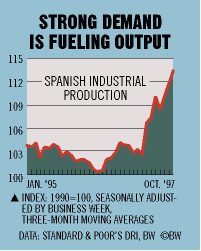 The timing of further cuts will depend on inflation, which is likely to rise at least slightly in early 1998, reflecting strong domestic demand. Surveys show that more manufacturers intend to raise prices. However, lower import prices for oil and other commodities--a result of the Asian crisis--will partly offset higher domestic inflation. December producer price inflation was only 1.2%.
Given strong growth and low interest rates, Spain's 1997 public deficit will fall just below the Maastricht Treaty target of 3% of gross domestic product. And for 1998, the government's 2.5% target appears eminently doable--a result that both Germany and France would envy.
Before it's here, it's on the Bloomberg Terminal.
LEARN MORE