More Matchmaking At The Doctor's
by
When No.1 and No.2 in an industry attempt a merger--and then call it off--what's next? Since a proposed link-up fizzled between MedPartners and PhyCor--leaders in managing doctors' practices--attention has shifted to No.3: FPA Medical Management (FPAM) is being bruited about as PhyCor's next target.
PhyCor had wanted to spread into all 50 states by swallowing the bigger MedPartners, which operates in 40. With that scheme down the drain, FPA, with operations in 28 states, "would be the logical choice for PhyCor," says a New York investment manager who has been accumulating FPA shares.
He thinks PhyCor will approach FPA --if it hasn't already--with an offer of $1.7 billion, or $40 a share, the value most analysts put on the company, based on its fundamentals and growth rate. The stock was at 15 on Jan. 13, down from 40 in October.
PhyCor had offered $6.8 billion in stock for MedPartners--plus assuming $1.2 million in debt. Since the aborted deal, shares of PhyCor and MedPartners have dived, along with FPA's. One reason for the pullback, some say, was a disclosure that MedPartners would post a fourth-quarter loss.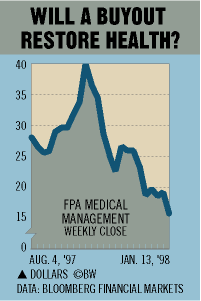 FPA, on the other hand, has "diversified its revenue base, transforming the company into a leader with an impressive record of beating expectations for seven consecutive quarters," says analyst Lori Price of CIBC Oppenheimer. Revenues, about $1 billion in 1997, are expected to rise to $1.3 billion in 1998. Price sees FPA earning $1.38 in 1998, up from 1997's estimated 92 cents.
Tony Forstmann of Forstmann Partners thinks FPA "is a potential deal," but insists the stock is "a compelling value," based on fundamentals. Fourth-quarter results, he adds, will be solid. "FPA will continue beating expectations." PhyCor Chairman and CEO Joseph Hutts says "we're always looking for strategic opportunities, but we are not in talks with any company at this time." FPA declined comment.
Before it's here, it's on the Bloomberg Terminal.
LEARN MORE