Mellon Looks Riper For Picking
By
Don't count out a Mellon deal. So say some pros who think the U.S. bank holding company will hold more talks with Bank of New York.
Shares of Mellon Bank (MEL) have been on a roller-coaster since spring because of rumors. Down to 46 in August, the stock shot to 63 in December. Mellon had been close to a pact to be bought by Bank of New York. But no cigar. Talks fell apart, and the stock dropped to 53 in mid-December.
Since then, Mellon has recovered, climbing to 59 on Jan. 13. "I believe a deal will be done early this year, most likely with Bank of New York," says PaineWebber analyst Ruchi Madan. Chances are good, she says, that both parties will welcome talks, "given how compelling the combination would be." Madan says she wouldn't be surprised if talks have resumed. One reason for a resumption: Mellon CEO Frank Cahouet's contract expires at the end of 1998. Madan thinks Bank of New York may agree to have Cahouet serve as CEO of the joint entity until then, when its own CEO, Thomas Renyi, takes over.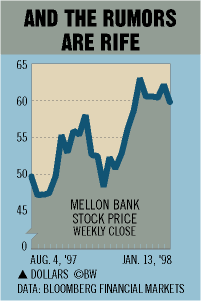 When Mellon was highlighted in this column on June 30, the price discussed was 55. The stock was then 45. Now it's worth 80 in a buyout, say those who tagged Mellon as a target in June.
Madan says NationsBank, Chase Manhattan, First Union, and Northern Trust are also suitors. But from Mellon's perspective, a deal with Bank of New York would be best because of the synergy. The joint company would attract a higher p-e, Madan says. A Mellon spokesman says: "We are among the best performing banks today, and we believe our independence provides the best framework to build value for our shareholders." He declined comment on the Bank of New York rumor.
Before it's here, it's on the Bloomberg Terminal.
LEARN MORE