Commentary: A Portfolio With A Heart Still Needs A Brain
Keith H. Hammonds
Every spring, Ben and Jerry invite me to a big party in the Vermont hills. In strictly legal terms, this is the annual meeting for shareholders of their famously countercultural ice-cream company, Ben & Jerry's Homemade. In practice, it's more a quasi-corporate Woodstock, with folk music, tie-dyed T-shirts, and more than enough butterfat to go around.
It sounds like fun. I keep meaning to go. For sure, I haven't gotten much else out of my Ben & Jerry's stock.
It has been five years since I bought my 200 shares. Price then: $27. Price today: $15. Dividends: Zippo. Total return: Well, you figure it out.
The episode wouldn't be any more than a regrettably personal lesson in stock-market vagaries, except for the reason I bought Ben & Jerry's in the first place. As much as I relished its product, supporting the company seemed an ethically upright thing to do. Here was an employer that paid workers decent wages, bought environmentally sound ingredients, and directed a big chunk of profits to charities I believed in. This business was changing the world a bit.
Yeah, I know. Dumb. When people try to pick socially responsible stocks, "they tend to fall in love with the story and don't pay attention to the fundamentals," says financial adviser George Gay, president of First Affirmative Financial Network in Colorado Springs, Co. The moral here isn't that such investing is wrong. But it doesn't make sense if you don't do the numbers.
Broadly speaking, the numbers for socially responsible investing look decent enough. Indeed, theoreticians largely have disproved the old presumption that limiting one's investment universe limits returns. John Guerard of Vantage Global Advisors found that a socially screened index of 950 stocks produced an annualized return of 13.6% over the 10 years ended in 1996, only slightly less than 1,200 unscreened stocks. A model actively managed for value and growth actually did better.
RED FLAGS. True, many early mutual funds that focused on social responsibility have underperformed badly. Yet the $2.3 billion TIAA/CREF Social Choice fund has bettered its balanced-fund peers since 1990. The Domini 400, an index of stocks that meet a range of social, environmental, and workplace standards, has consistently beat the Standard & Poor's 500-stock index.
So where did I go wrong? When I looked at Ben & Jerry's in 1993, I should have spotted a field of red flags. The company's shares, having tripled in the previous 18 months, were selling at 30 times trailing earnings. Founders Ben Cohen and Jerry Greenfield seemed nice, reasonably intelligent guys, but they had no professional management experience. Not a good sign when their company was facing a new-product onslaught from Haagen-Dazs, a rival with far deeper pockets.
More than anything, this was, after all, fancy ice cream for $3 a pint. How long could the mania persist? As it turned out, about a month. Then my shares began tanking. When the competition got tough, Ben & Jerry's was proven a high-cost, inefficient producer. Doing good--paying wages higher than market or buying expensive, chemical-free milk--arguably cramped the business.
Like a growing number of investors--assets in socially screened portfolios more than tripled from 1995 to 1997, to $529 billion--I'm content to sink money into companies whose behavior reflects my values. That's my responsibility as a participant in democratic capitalism. I'm even prepared to forfeit some return for the privilege. But not half my investment. Next time, I'll dig deeper into the financials. I'll also consider companies such as Xerox and Motorola--big outfits just as responsible as some sexy, politically correct startups.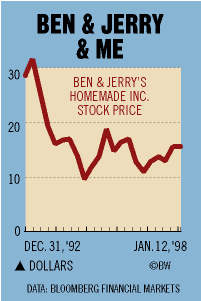 But I'm holding onto Ben & Jerry's, too. The stock still isn't cheap, and the ice-cream market is tepid. Ultimately, though, I believe the company's behavior, while costly, resonates with the people who buy those $3 pints. The financials look solid, and management is far deeper. CEO Perry Odak, a veteran marketing executive brought on a year ago, assures me that while Ben & Jerry's social mission remains intact, "we've had to bring some new balance to that and focus on making the economic side of the company stronger."
Besides, I still want to make that bash in Vermont. Some good music, and a dish of Chocolate Fudge Brownie, will ease the pain nicely.
Before it's here, it's on the Bloomberg Terminal.
LEARN MORE