Can Giant Become A Big Wheel?
The bikemaker is pedaling hard to get ahead in the U.S.
Jonathan Moore
Over nine months last year, Britain's top mountain-bike racer, Rob Warner, gave the ATX-One a series of brutal workouts. Before agreeing to endorse the $4,000 model, he made the engineers of Taiwan's Giant Manufacturing Co. work up three prototypes and endlessly tweak the rear suspension. Warner is "kind of a crazy guy," says Giant designer Daniel Shiau. It was tough, but the bikemaker got its endorsement for the ATX-One, which hits the stores in Europe and the U.S. this spring.
Winning endorsements from famous downhill racers like Warner is crucial for Taiwan's No.1 bikemaker. Giant makes bikes for other manufacturers, but it wants to raise its own brand to new levels. Yet in the U.S., bike fanatics often see the Giant marque as a downmarket alternative to Cannondale, GT, and Trek. So Giant plans to win the hearts and minds of American cyclists by sponsoring teams and cranking out high-tech models.
This is a race Giant must win. Annual U.S. sales of mountain bikes, long the industry's hot category, have leveled off at 6 million units, and a glut is triggering brutal competition. In Giant's key market--midtier bikes priced at $250 to $800--buyers demand ever-better technology, putting a squeeze on margins. Because of these pressures, Giant revenues nudged up barely 2% in 1996, to $301 million, while profits dropped 4%, to $6.9 million.
UPHILL CLIMB. In 1997, Giant boosted its efforts to dominate the middle market and move into the high end as well. Besides sponsoring Rob Warner, it backs a Tour de France team in a bid to increase Giant's exposure in Europe, where it is already strong. Profits jumped to an estimated $9 million, with additional gains expected (chart). This year, it will increase from 8 to 16 the number of models using aluminum dual-suspension frames, known for handling and durability. Giant says it can sell these decked-out bikes at a profit in the moderate, sub-$1,000 price range.
At the top end, besides rolling out the ATX-One, Giant is also releasing a road-racing model, the $3,000 MCR. Giant says the MCR is the first mass-produced model in the industry to feature a molded, single-piece carbon-fiber frame. Giant has opened a factory in the Netherlands, boosting total annual output to 2.3 million. With huge plants in Taiwan and China, Giant hopes it can sharply drive down manufacturing costs and somehow survive the glut. "There still is pretty good demand for innovative and better-quality products," says Giant President Antony Lo.
Thanks to aggressive marketing that targets America's savvy teen consumers and young adults, the company says U.S. sales jumped 30% in 1997. Giant, with a 6% market share, says it is now one of the top five brands--but still behind high-flier Trek and Schwinn, which has bounced back from bankruptcy. Independent data verifying Giant's claim are hard to come by. But Ash Jaising, president of Boston's Bicycle Market Research Institute, agrees that Giant has gained share in the strategic $1.1 billion specialty-bike segment. "There are hundreds of brands, and dozens of companies have gone bankrupt," says Jaising. "To rank among the top five is an accomplishment."
EARLY CONVERT. The question is: How much further Giant can go, given the image problem that still dogs it. Will Alvarado, assistant manager of Metro Bicycles in New York, sums it up: "We used to carry Giant, but no longer. Most of our customers don't understand why they should pay the same for a bike made in Taiwan [as for a U.S. one]."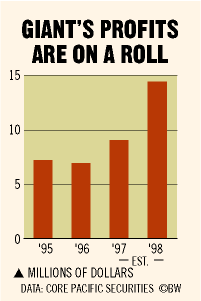 That's quite a turnabout, considering that Giant was one of the first companies to take mountain biking seriously, in the early 1980s, when Lo saw kids tearing down trails during his trips to California. He had designers develop extra-stiff bike frames and "raced them down mountains to see how much punishment they would take," Lo says. As sales rocketed, the company focused on the low and midrange markets as a contract manufacturer.
When Schwinn, Giant's biggest customer, went bankrupt in 1989, Lo realized that Giant needed to start selling bikes under its own brand name. But it took several years more before Giant settled on its strategy of making high quality at midlevel prices. By then, its reputation as a cheap import was already cast. So to get more kids tearing down those trails on Giants, the company just has to work harder at being cool.
Before it's here, it's on the Bloomberg Terminal.
LEARN MORE