Are Tech Buyers Different?
Marketers say new consumer categories are needed
Paul C. Judge
To the bright young founders of WebTV, it looked like a home run: hook televisions up to the Net and tap into the vast market of couch potatoes curious about this new thing called the World Wide Web. But after burning through an estimated $50 million to advertise the new service during the 1996 holiday season, WebTV and partners Sony and Philips Electronics counted a disappointing 50,000 subscribers.
The problem, WebTV now acknowledges, was the wrong marketing message. Couch potatoes want to be better entertained, while computer users are content to explore using small PC screens. A revamped campaign now emphasizes entertainment over education.
WebTV's marketing myopia isn't unique. As the $280 million consumer market for technology soars, companies that sell stuff ranging from cellular phones and computers to software and Internet services have some surprising blind spots about who their customers are and what motivates them.
Enter market researchers, sniffing opportunity. Unlike soup or soda, technology products are often complex and evolve rapidly. And the failure of a few well publicized products, such as WebTV or Kodak's PhotoCD, to hit it big with a mass market has convinced a growing number of companies that when it comes to high tech, conventional marketing research doesn't go far enough. "The traditional approach pretty much always falls back on the ancient taxonomy of early adopters and followers," says Peter M. Winter, president of Cox Communications Inc.'s Interactive Media unit. "That's not precise enough."
MOTIVATION. The result has been a scramble among researchers to find out what makes technology customers tick--and whether consumers behave differently when they buy technology than when they purchase other consumer products. Of course, consumer-goods makers figured out long ago the value of understanding consumer habits, even for seemingly mundane stuff such as toothpaste. But to gain similar insights into technology consumers, some marketers argue, research must go beyond demographics and buying patterns--it must capture how people really use technology day to day, and how they feel about it.
Some market-research firms, such as San Francisco-based Odyssey Research and pollster Yankelovich Partners' Cyber Citizen, are focusing on the way consumers use the Internet. Others, such as SRI Consulting Inc., are using traditional market-research methods that combine demographics information with an analysis of consumer emotions to predict how tech buyers will behave.
But the most ambitious effort so far is a scheme from technology consultant Forrester Research Inc., which contracted with polling and research firm NPD Group to survey 131,000 consumers annually about their motivations, buying habits, and financial ability to purchase technology products. Dubbed Technographics, the first survey results won't be completed until later this month. But already, some big-name clients, including Tele-Communications, Sprint, Visa, Ford, and Bank of America, have signed up for a look. "Technology is not just changing the way consumers spend time," says Gil Fuchsberg, director of new media for ad agency Interpublic Group, a Technographics client. "It's also changing the way nearly every company is making, selling, and delivering products. We've got to understand that."
Of course, plenty of technology companies have prospered without such tools. But Jim Taylor, who ran Yankelovich before he became senior vice-president for marketing at computer maker Gateway 2000 Inc. in 1996, thinks technology-specific research will be increasingly critical as PC makers and others learn to segment their markets to keep up growth. The difference, he says, is that traditional consumer research will tell you who bought a computer. But it won't tell you that four different people in a household use it--or how their needs differ. Marketing to the wrong member of the household can sink a product, he says. "In this business, you don't have to screw up much to screw up a lot," he says.
To help companies zero in on their target customers, Forrester's scheme separates people into 10 categories. Some, such as career-minded "Fast Forwards" who own an average of 20 technology products per household, and their less affluent colleagues, known as "Techno-Strivers," are at ease with technology and use it at home, in the office, and at play. Others range from "New Age Nurturers" who spend big bucks on technology, though primarily for family use, to "Hand-Shakers." These older, wealthy consumers--often managers--let younger assistants handle computers and other technology in the office (table).
CLEAR TARGETS. Some Forrester clients have already started identifying products and services they're likely to rework. At Cox Interactive, for example, Winter plans to use Technographics to identify more clearly the target viewers for his Web sites. Once he has a stronger handle on who they are, he'll reshape content to better draw them in.
To get a glimpse of how it will work, consider Cindy Williams, 46, an administrative secretary for a health-maintenance organization in Tulsa, Okla. She and her husband Gary, a 44-year-old maintenance supervisor, have one PC they bought three years ago and no Internet connection. They are mulling an upgrade since their sons, ages 11 and 12, want speedier games than their sluggish machine can play.
Thanks to their family status and income--two traditional signposts--a conventional consumer-research profile would highlight them as promising technology buyers. But Forrester claims those factors are misleading and that any tech company pitching sophisticated products to the Williams would likely be wasting its money. Technographics pegs the Williams as Traditionalists--family-oriented buyers who are relatively well off but remain unconvinced that upgrades or other new techno-gadgets are worth buying. Why? A key factor in the Williams profile is the age of their PC. Three years old is ancient by tech standards.
So an online grocery service starting up in Tulsa might use Forrester's information to bypass the Williams, despite their superficial demographic fit. Unlike other family-oriented consumer groups such as New Age Nurturers or Digital Hopefuls, Traditionalists "wait a long time before upgrading. That's not a very fertile part of the online market," says Forrester analyst Josh Bernoff.
But Technographics should also help a company find new buyers. Carol Linder, 46, is a customer-service manager for Ameritech Corp. in Milwaukee. She and her husband Robyn, a 53-year-old CPA, already have three school-age children, two pagers, and three PCs. By the end of the month, they plan to buy two more computers. Robyn spends time online for work. Although similar to the Williams family in income and family status, they are light-years away in how they use technology. The Linders are classic Fast Forwards, using computers and other gadgets for job, family, and individual pursuits. So a company selling ISDN phone lines that speed computer connections might use the Technographics profiles to target the Linders while avoiding the Williams.
Such distinctions should also come in handy as tech companies struggle with marketing to a broader audience as they shift away from early adopters. That's the challenge facing Tele-Communications Inc. The cable-TV giant wants to use Technographics to help develop and sell new products as its cable-modem business goes mass market. "How we market the product initially, and how we target and talk to our customers changes over time," says John Najarian, director of consumer research for TCI.
TCI knows that speed and performance have been important to early users of cable-modems. But that's not necessarily what will appeal to new types of buyers. So Najarian says it might use Technographics to help create kid-friendly Internet marketing targeted to family-oriented New Age Nurturers, for example. Or it might develop ways to download TV clips that appeal to entertainment-hungry Mouse Potatoes.
NEW BOTTLES? Similar plans are under way at Delta Air Lines. The Atlanta-based carrier hopes that by analyzing its own customer database using Technographics' categories, it can better target online ticket sales. Delta plans to create marketing campaigns aimed at time-strapped Fast Forwards and New Age Nurturers, for example. Just as important, it figures to save a bundle by using Technographics to eliminate customers who appear to be technology pessimists from its solicitations. High income or not, they're unlikely to use such a service. "Traditional marketing research gives you a picture of the universe but doesn't focus on the people more likely to book online," says Paul Lai, manager of marketing research for Delta.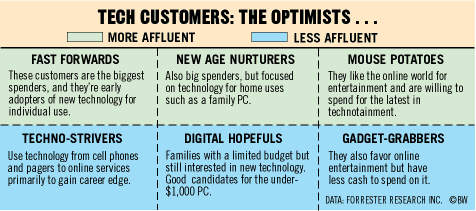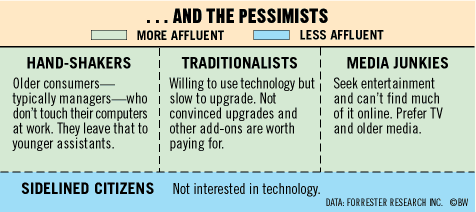 Despite the interest Forrester has sparked, more traditional researchers argue that it's doing little more than putting old medicine into new bottles. "Consumers are consumers," says Bill Guns, director of SRI Consulting's business-intelligence center. "Nothing in the data we've seen over 20 years suggest that somehow people are different beings when they are buying technology." SRI's research, called Values & Lifestyles Survey, leans more on emotions, delving into whether or not customers like technology or are intimidated by it.
But retail consultant Wendy Liebmann, president of WSL Strategic Retail, says the slow start of Net shopping and the frustrated expectations of many consumers new to online services clearly show the need for more targeted technology marketing. Companies are providing services that consumers ignore. Meanwhile, consumers sign up for other services and are disappointed. With a mountain of data on tap, Forrester is hoping it can carve out a new category for itself: techno-matchmaker.
Before it's here, it's on the Bloomberg Terminal.
LEARN MORE