U.S.: Low Rates Could Keep The Asian Flu At Bay
Consumers and home buyers will buoy the economy as exports slow
by
Watching the entire Asia-Pacific region turn into an economic sinkhole is a pretty scary sight. But do Asian woes mean only bad things for the U.S. economy?
Early readings on the impacts are starting to show up and, as expected, the main hits are to foreign trade and to the manufacturing sector, as well as to the earnings of companies that do a lot of business in the region. However, what is also becoming clear is that prospects for continued low inflation are pushing most long-term interest rates down to record lows and fueling further gains in the real wages of U.S. workers. These offsets add energy to the very area that has driven growth during the past year: domestic demand.
The sharp drop in long rates will buoy demand for housing and home-related durable goods. New-home sales surged in November, and mortgage rates have fallen further since then (chart). Lower rates will also spur a new round of refinancings, which always boost spending. The yield on the benchmark 30-year Treasury bond fell to 5.72% on Jan. 6, the lowest since such issues were first offered in 1977, eclipsing the October, 1993, low of 5.77%.
Long rates have dropped some 1 1/2 percentage points since April, 1997, mainly reflecting good news on inflation, less worry that the Federal Reserve was ready to raise short-term interest rates, and an evaporating budget deficit. Lately, the Asian crisis has only accelerated the fall in long rates as global investors seek a safer haven for their money. And most recently, Fed Chairman Alan Greenspan's Jan. 3 remarks about deflation suggested to bond investors that any tightening by the Fed is a dead issue and that its next move could even be a rate cut.
BUT THE KEY QUESTION for both policy and the outlook is: How much will Asia's troubles slow the economy? The rate drop will supply a fair amount of stimulus in early 1998, just when the Asian drag is expected to be at its greatest. Already, some data show that the trade impacts are starting to be felt. The National Association of Purchasing Management's December index of business activity in the manufacturing sector fell to 52.5%, and it has been in a declining trend since July, when it hit the year's high of 58.6%.
One key trend that stood out in the NAPM data: The growth rate of export orders fell off sharply at the end of last year (chart). The export-orders index fell to 50.6%, the lowest level in nearly two years, and the trend has been down during the second half of 1997. The drop appears to be a factor behind the recent decline in the NAPM's index of overall orders.
The Commerce Dept.'s more comprehensive report on all factory orders showed that bookings jumped 2.5% in November. But all of that increase reflected a surge in aircraft orders. Excluding planes, bookings fell in both October and November. Moreover, for the second month in a row, factory inventories rose as shipments fell, pushing the ratio of stockpiles to sales to the highest level in six months. Rising inventories, along with the broader decline in orders, may well reflect some Asian impact.
Still, manufacturing retains some momentum. Even excluding aircraft, the backlog of unfilled orders continued to rise in November, a sign of future production gains. Also, a reading greater than 50% for the NAPM's overall index means that the economy is growing. While the data suggest that the pace has slowed, the December index is still consistent with economic growth in the range of 2.5% to 3%--a healthy clip.
EVEN AS THE FACTORY SECTOR cools off, though, the outlook for domestic demand remains upbeat. In particular, consumer spending and housing still have plenty of pizzazz. Based on the weekly survey by the LJR Redbook Service, retail sales through all of December surged a seasonally adjusted 2.4% from November. That showing suggests a solid advance in the Commerce Dept.'s retail figures for the month, due on Jan. 14.
Moreover, the coming stimulus from refinancing could be large. The Mortgage Bankers Assn. estimates that at current mortgage rates, 5 million households would benefit from refinancing, freeing up an average of $800 per year per household.
In addition, the labor markets seem likely to remain vigorous in early 1998. Initial claims for unemployment insurance benefits were slightly lower in December than they were in November, and the Conference Board's November index of help-wanted advertising rose to its highest level in nearly eight years. Both indicators suggest stronger job-market conditions in early 1998. And greater job security, after so many years of jitters, has been a big reason for the improvement in consumers' morale.
In fact, households ended 1997 on rock-solid footing. Job growth was the highest in three years, and real disposable income rose 3.5% in the year ended in the fourth quarter. In addition, the 30% increase in 1997 for the 500 stock prices tracked by The McGraw-Hill Companies' Standard & Poor's Co. means that the nearly 40% of households that own equities have seen steep gains in their balance sheets.
Little wonder, then, that consumer optimism is the highest in 28 years. The Conference Board's index of consumer confidence jumped from 128.1 in November to 134.5 in December. Consumers were more upbeat in December about the economy's present situation and for prospects six months down the road.
STURDY CONSUMER FUNDAMENTALS are propelling a home-buying spree that lifted home construction to its best year of this seven-year expansion. Residential construction added significantly to fourth quarter GDP growth, and lower rates will enable builders to maintain that strength into the spring.
Sales of new single-family homes jumped 5.1% in November, to an annual rate of 830,000, the most since April, 1986 (chart). For all of 1997, it appears that more than 800,000 new homes were sold, the largest number since 1978. Moreover, the flurry of sales dropped the November supply of unsold homes to a scant 4.2 months, the lowest since 1971. That will support more housing starts this quarter.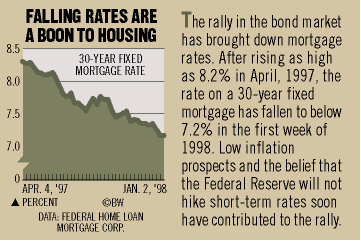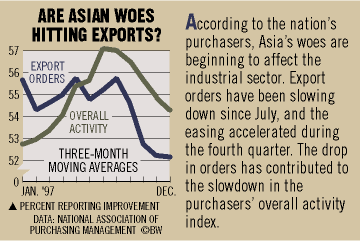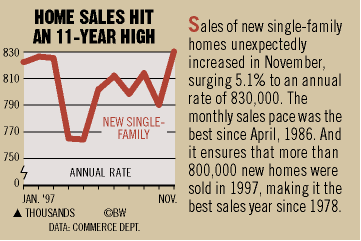 A record 66% of Americans already own homes, and that percentage is sure to rise in 1998, since the drop in mortgage rates makes home ownership more affordable. And as long as investors' flight to quality lifts bond prices, the trouble in Asia will continue to benefit builders in the U.S.
Indeed, the Asia fallout in 1998 will not rain down equally on all sectors of the economy. Cheaper mortgages join falling goods prices as bonuses for some U.S. consumers. But slowing exports and greater competition from Asian merchandise will weigh on the industrial sector and its workers. On balance, though, the economy is set to keep chugging along at a healthy pace.
Before it's here, it's on the Bloomberg Terminal.
LEARN MORE