Sweet Melodies From The Net
By
Ever heard of N2K? Internet cruisers know that N2K (NTKI) is all about music. Through its flagship online channel, Music Boulevard, N2K offers 200,000 music titles for two-day delivery to the buyer's home. To widen its reach, the company has pacts with MTV and Internet mainstays America Online, Excite!, and Netscape.
With the explosion in Web use, "the potential is huge [for N2K]," says David Siminoff of Capital Research & Management, who has bought shares. The stock is now at 17 1/2, down from 24 on the stock's first day of trading in mid-October. But he is not worried about the dip. The people behind N2K--CEO Larry Rosen and Vice-Chairmen Dave Grusin and Jon Diamond--are veterans of the music and media world, he says. N2K also operates Web sites for such talents as David Bowie and the Rolling Stones.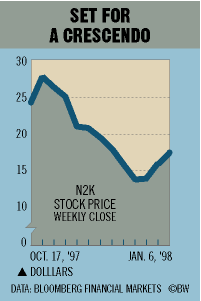 Based on Christmas sales, N2K's fourth-quarter results may dwarf estimates. Initial whispers put quarterly sales at $4 million (retail and ad revenues)--six times the corresponding figure for 1996. Analyst Adam Giansiracusa of investment bank C.E. Unterberg, Towbin notes that N2K is seeing stronger-than-expected results from its online aggregators--AOL, Netscape, and Excite! "That gives us confidence in our $3.2 million fourth-quarter target for online compact-disk sales," he says. His 12-month target for the stock: 32. Although sales are estimated at $10 million in 1997, he sees them jumping to $58 million in 1998 and to $199 million in 1999, when he expects N2K will begin making money.
Before it's here, it's on the Bloomberg Terminal.
LEARN MORE