Of Brotherly Love And Other Fictions
Joseph Weber
A PRAYER FOR THE CITY
By Buzz Bissinger
Random House 408pp $25.95
On the very first night that Peoria-born Linda Morrison settled into an old row house in a gentrifying area of Philadelphia in 1990, she was awakened by screams. A man, stabbed and bleeding, stumbled down a nearby alleyway, crying out: "Dad, you killed me. Dad, you killed me." But that was just the start. Nightly shouting from kids roving outside at all hours alternated with the sirens of police, called to deal with drug overdoses, fights, and shootings. The cops even asked to use her third-floor deck to conduct surveillance on nearby rundown apartment complexes.
Morrison stuck it out for a while, but after her son was born, her worries about safety multiplied. First, she bought a gun. Eventually--and reluctantly--she put her house up for sale. But the neighborhood wouldn't let go easily: On the night before an open house, a neighbor was mugged and shot, splashing blood onto Morrison's porch. So, over the Fourth of July weekend in 1992, Morrison sold the house back to her mortgage-holder, losing $20,000 as she fled to the suburbs. "But we escaped with our sanity and our lives, and we feel lucky for that," she later wrote to an aide of Philadelphia Mayor Edward G. Rendell.
Such grisly tales make A Prayer for the City a sad, gripping, and important book. For anyone who cares about the downward spiral of too many American cities, this work by Pulitzer Prize-winning journalist Buzz Bissinger is a must. It attaches names and faces, and flesh and blood, to the tragic decline of urban life--in this case in Philadelphia.
Bissinger, a former reporter for the Philadelphia Inquirer, builds his tales around "America's Mayor." He portrays the nationally renowned Rendell as an impulsive, profane, adulation-seeking pol who nonetheless has the city's best interests at heart and who did pull Philadelphia back from financial ruin. For four years, Bissinger shadowed the mayor as he maneuvered through union and racial politics, grappled with Washington's malign indifference, and tended to common mayoral chores. His Rendell is "a complicated man of many hues" and "unafraid to be human."
Some of Bissinger's descriptions, however, raise questions about the two-term Democrat's stability. At a meeting with union officials, Rendell's "body language lurched and jerked...as if some internal war inside his body was being waged between Good Ed and Bad Ed, and he was trying, very, very hard not to take everyone and everything in that room and fling it all out the window into the City Hall courtyard." Another time, a reporter so angered him that he grabbed her vise-like around the neck and shoulders. "The look on his face, inches from hers, was a lock-jawed grimace, and he spit out his words as he muttered at least one obscenity," Bissinger reports. "He looked terrifying."
But the burly Rendell also is a jovial wheeler-dealer. We watch him slide into a limo with President Clinton on a 1993 visit to lobby against planned military-base closures. The most potent numbers Rendell laid out were 9, 25, and 74. He explained that 9% was the city's unemployment rate, 25% its poverty rate, and 74% Clinton's share of the vote in the Presidential election. Clinton laughed--and Rendell saved 8,444 jobs.
Sadly, Rendell couldn't save more work or create enough to stem what seemed an inexorable outflow. In the decade before 1996, Bissinger tells us, the city lost 104,000 jobs. While Rendell can cheerfully point to a few thousand jobs gained in the last couple of years, these were mostly not the high-paying manufacturing posts that once made the city the "workshop of the world." Instead, they were in urban-entertainment service businesses. The fifth-largest metropolis in the U.S., Bissinger notes, had been reduced to a "City as Six Flags for suburbanites."
Bissinger excels when he describes Philly's people. We meet the stoic Fifi Mazzccua, a black great-grandmother, several of whose progeny wind up jailed or murdered. Fifi copes with the help of an idealistic white Methodist minister, who, in yet another loss for her, ultimately leaves his North Philly pulpit for a church administration post. And we learn of Mike McGovern, the prosecutor with a passion for putting away murderers. Through such individuals, we glimpse the city's often-tumultuous race relations and the human face of its decline.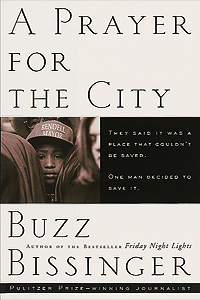 Yet Prayer may disappoint some readers familiar with the city. The book is a bit overwritten, and its rarely relieved gloom seems only half of the story. Surely the bustling business district, with its narrow, pedestrian-friendly streets and charming shops, is more than an amusement park for suburbanites. What of the broad boulevards and of Rittenhouse Square, an area of stylish apartment houses surrounding a vest-pocket park? And, though readers wouldn't know it, blacks and whites do mix easily in gleaming office towers and in jazz and blues clubs downtown.
Bissinger masterfully portrays the city's problems, but in the end, he fails to show a way out--or even why Philly should be saved. He documents how government and business have exacerbated urban problems but is short on solutions. Still, the world is hardly lacking in such advice--experts have been offering suggestions for years. And while Bissinger proves a disappointing analyst, he is a skilled reporter whose richly detailed account of one struggling city deserves a close look.
Before it's here, it's on the Bloomberg Terminal.
LEARN MORE