Looking To Score In Football...Can Get You Caught Offside
by
The football gods were smiling on little Kosice, Slovakia. A national championship in hand, the local team pulled off the unlikely feat last year of qualifying for the European Champions League, the most lucrative tournament in professional football. For Kosice's first match in the big show, this depressed industrial town on Sept. 17 hosted none other than Manchester United, the team many consider the world's best.
That Man U was taking the field in a broken-down Eastern European stadium was not the only surprise. Kosice's owners, the local VSZ ironworks, also own another of this year's Champions League participants, Czech club Sparta Prague. That same night, Sparta entertained Italian powerhouse Parma.
Jealous eyes were watching from the West. No matter that neither team advanced past the tournament's first round. VSZ's success in slotting two teams into the Champions League served as proof to potential investors that the best--perhaps the only--bargain routes into the Continent's booming football madness run through Eastern Europe.
Already on the field is English National Investment Co. (ENIC), a publicly traded fund that holds stakes in Italian and Greek clubs and is bent on growing into a sports and entertainment holding company. In October, ENIC became the first Western investor to take control of an East European team by striking a deal for 54% of Czech club Slavia Prague for $3.8 million. ENIC also made an offer in December for Budapest club Ferencvaros. Competing for Ferencvaros is Cleveland-based sports marketing firm International Management Group (IMG). Experts say French broadcaster Canal Plus, owner of the Paris St.-Germain club, is also sizing up opportunities.
Their timing makes a lot of sense. Across Eastern Europe, once proud football clubs are bottoming out after a decade of withering state support and hard times. Now, with economies growing and commercial TV taking root, properly managed teams could begin to sell the sport here as never before. "What's driving the clubs in Western Europe is the TV market. In Eastern Europe, that's in its infancy," says Brian Sturgess, global media and sports analyst for ING Barings.
TOP 40. Currently about 10 teams in Europe are global marketing powerhouses, with another 10 getting there. Tim Jenkins, head of football investments for IMG, thinks there's room for 30 big brand names. "I see no reason why five to eight of those can't be from Eastern Europe," he says. None will likely catch Manchester United, which garnered $47.2 million in 1996 from retail merchandising, but clearly there is nowhere to go but up.
And the entry price is cheap. According to Gerry Boon, director of Deloitte & Touche's football industry group, $7 million, or roughly the total value of ENIC's Slavia Prague, couldn't buy a top 40 club in Britain. Nor could it put your company's name as a sponsor on the jerseys of any of Europe's top 10 for one season. But in Poland, the Czech Republic, Slovakia, or Hungary, it buys a contender.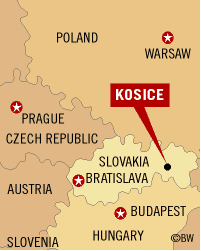 Of course, in this region just knowing what you're buying can be difficult. Sports clubs don't follow the most basic business methods, such as keeping accurate books. Ferencvaros has lost track of nearly $1 million, part of the $2.8 million purse it took home for participation in the 1995-96 Champions league. Stadiums often are kept in miserable condition. Prejudice or politics can interfere with drawing fans: There are clubs traditionally known as "fascist," "red," and even "Jewish." And while football violence is mostly under control in Western Europe, the potential for deadly disasters in the East remains serious because of unsafe grounds, poorly trained police, and growing football hooliganism. Still, investors such as ENIC and IMG seem to realize that shopping carefully and pumping money into bigger and safer facilities is as important as putting better talent on the field.
IMG's Jenkins calls football here a "minefield" for the unwary investor. But he and others know the bright lights can shine eastward, where despondent fans are starving for glory. The money and the fans could form a match made in, well, the Champions League.
Before it's here, it's on the Bloomberg Terminal.
LEARN MORE