Argentina: Plenty Of Fire Left In This Tango
by
Argentina ended 1997 strongly. And while the economy faces challenges in 1998, its recovery will likely mark its three-year anniversary in early 1999.
Gains in output, construction, and retailing point to a solid fourth quarter. Stores reported a 12.5% gain in Christmas sales compared with 1996. Construction activity was up 15.3% in the year ended in November, and industrial production rose 8.6% in the month. Factory output has accelerated sharply over 1997, led by gains in motor vehicles and chemicals (chart). The latest data suggest that real gross domestic product in the fourth quarter grew by 8.6% from a year ago. That's the same healthy pace posted in the third quarter, and it means that for the year, real GDP grew by about 8%.
For 1998, the government projects the economy will expand between 6% and 7%, fueled by business investment and continued privatization of government enterprises. Private economists expect growth of only about 4% to 5% because the Asian fallout is hurting Brazil, Argentina's largest trading partner. Still, Argentina's growth prospects are better than those of many other emerging economies, in part because of foreign-investor confidence in the government's ability to maintain the link between the peso and the U.S. dollar.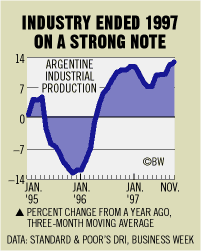 Strong growth has helped Argentina's public finances. Taxes surged by 12.7% in 1997, to a record 48.6 billion pesos ($48.6 billion). Continued growth and a crackdown on tax evasion should lift revenues a bit more in 1998. That will keep the deficit to less than 4% of GDP, a criterion for new loans from the International Monetary Fund.
The consumer sector may be a question mark for 1998. Argentines are skeptical about growth prospects. According to one survey, 46% of consumers think the economy will show no growth in 1998, and 56% are unsure the jobless rate will fall this year from October's 13.7%. Indeed, as long as Asian ills do not worsen, cutting unemployment will likely be Argentina's key challenge in 1998.
Before it's here, it's on the Bloomberg Terminal.
LEARN MORE