A Gamble As Big As A Rolls
Any buyer of the tiny carmaker will have to pump in millions
Stanley Reed
When British defense conglomerate Vickers PLC put Rolls-Royce Motor Cars Ltd. on the block in October, some of the world's biggest auto makers began maneuvering to make the elite brand their own. The builder of $228,000 Rolls-Royce Silver Spurs and $377,000 Bentley Azures, whose wood trim is still cut and polished by hand, would nicely top off another company's product line. In fact, the winged "Spirit of Ecstasy" figurine that has graced the hoods of Rolls autos since 1911 has become a coveted prize.
In theory, the potential of Rolls's brand name would justify a high price and hefty investment. Germany's BMW looks like the most likely buyer, although Daimler Benz and Volkswagen are mulling rival bids. Because BMW co-developed the engines for Rolls's long-awaited new models, expected this spring, the Munich-based carmaker has an edge.
TRADEMARK FIGHT. But with estimates of a purchase price for Rolls ranging from $320 million to nearly $1 billion, any buyer would be making a gamble. To profitably expand Rolls's tiny 1,800-car annual production will take years of heavy investment. Since Ford Motor Co. paid $2.5 billion for Jaguar in 1989, it has had to pump in billions more to whip the prestigious carmaker into shape. Rolls's buyer could be in for a similar fate.
Salomon Brothers Smith Barney in London figures the company, whose earnings fluctuate wildly, made only $45 million in profits in 1996. On $400 million in sales, that was a good margin--but it wouldn't go far toward recouping a rich purchase price. That's one reason that after 17 years of ownership, Vickers executives decided to bail out. Indeed, the $320 million or so that Rolls has already spent to modernize its plant and develop new models is almost triple Vickers' 1996 profits of $135 million. And Salomon's Nick Cunningham says the market expects Rolls to fetch about $500 million.
Meanwhile, the deal may turn on reaching a settlement with Rolls's former parent, jet engine maker Rolls-Royce PLC. Vickers and Rolls-Royce PLC, are fighting over the rights to the Rolls name. Rolls-Royce, which owns the Rolls trademark, has suggested it might exercise veto power over the transfer to a new owner. Vickers says Rolls-Royce PLC no longer enjoys veto power.
The possibility of losing the Rolls brand name has chilled some suitors. That could favor BMW, which is the likely choice of Rolls-Royce PLC, its joint-venture partner on other projects. And if it can keep the trademark, the German company has the wherewithal to build Rolls up. Garel Rhys, a professor at the Cardiff Business School, thinks the world market for Rolls could reach 8,000 vehicles per year. Rolls is strong only in Britain and the U.S., with just 140 dealers worldwide. A major player like BMW could add Rolls dealerships to a vast global network.
To gain a bigger beachhead, however, a buyer would need to develop new models. Rhys thinks Rolls should produce cars in the $150,000 range, above the Mercedes S-Class and BMW 7-Series, whose top-end models cost roughly $115,000 in Britain. At present, Rolls offers five Bentleys and two Rolls cars, and all are based on the same platform.
Rolls is trying to entice buyers by launching new models--the first in 17 years--possibly at the Geneva auto show in March. Rolls is being extremely secretive, but the cars will be four-door Bentley and Rolls-Royce sedans, with slightly more rounded bodies than the current versions.
Rolls is revamping its factory, building its first moving assembly line. It plans to cut man-hours per car from the present 800 to 400. But that compares with a European mass-production standard of about 25--and Rolls cars will still come full of handcrafted details.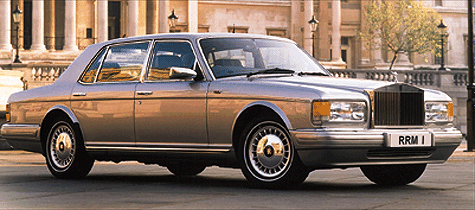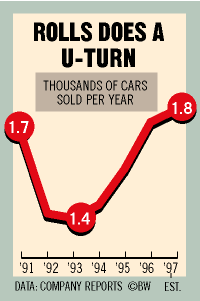 With no logical British buyer, Rolls is preparing its 2,700-strong workforce for foreign ownership. "It is far better to have Rolls-Royce under foreign ownership than not to have it exist at all," says Chief Executive Graham Morris. And the company will probably continue to build its cars in the English Midlands town of Crewe.
For now, it looks as if BMW will nab Britain's most storied carmaker. Rival Mercedes seems to be taking the thought of a German-owned Rolls seriously: It is planning to build a competing model, the Maybach, at a rate of 1,000 cars a year. But whoever winds up with Rolls will have to work hard to keep the Spirit of Ecstasy flying.
Before it's here, it's on the Bloomberg Terminal.
LEARN MORE