Where Kings Of The Road Hold Court
Roy Furchgott
Once a year, the Ohio River city of Louisville, known for Kentucky Derby thoroughbreds and paddle-driven riverboats, plays host to a different kind of conveyance: recreational vehicles. Fifteen acres of the Kentucky Fair & Exhibition Center this year are covered with 911 RVs, from pop-up campers to 40-foot motor homes, each one capable of prompting otherwise sane motorists to bellow: "Get that battleship off the road!"
But you'd never hear that kind of heresy amongst the faithful gathered here--the 4,584 dealers from the U.S. and abroad who have come to this year's Recreation Vehicle Industry Assn.'s (RIVA) National RV Trade Show. In fact, on opening night, these folks nod in agreement when RIVA President David J. Humphreys crows: "We are in, and hot, and hip."
Hot? Hip? That may be stretching it. John Steinbeck did give the vehicles some cachet with his 1962 Travels With Charley, which chronicled his cross-country RV adventures with his poodle. But more recent pop images of RVs tend toward Cousin Eddie, the polyester-clad, beer-swilling boor of National Lampoon's Vacation movies. Needless to say, Cousin Eddie lives in a run-down motor home. And though the industry boasts a roster of celebrities with RVs, they aren't exactly trend-setters: Sylvester Stallone, Connie Sellecca, Matthew Modine, and Emilio Estevez. Still, paragons of niceness and good taste sometimes drive RVs, too, including Tom Hanks and Martha Stewart. The dealers here aren't exactly costumed in Versace, but then you don't see matching white-shoe and -belt ensembles, either.
The 35-year-old show is a tradition in Louisville because of its proximity to the manufacturers. Neighboring Indiana is proud to be the undisputed RV leader of the world, and Elkhart the unofficial RV capital. Some 47% of U.S. RVs come from Indiana. (Texas is a distant second with 7%.) The show has grown with the RV market: In 1996, RV sales reached $12.3 billion, up about 2% from the previous year's $12.1 billion. An additional $3.7 billion annually goes to aftermarket products, finance and insurance fees, and RV rentals and used-RV sales.
GEEZERMOBILES? The buzz here is about young families embracing the RV lifestyle. According to a RIVA study done by the Survey Research Center at the University of Michigan, 49% of RV owners are younger than 54 and interested in family-oriented vacations. But according to a RIVA poll by Louis Harris, 57% of Americans still think of RVers as geezers. This presents a challenge to the industry. "If we can correct that perception, it will open up the market even more to younger baby boomers," says RIVA spokesman Jeff Beddow. Plus, he adds, boomers themselves are approaching geezerhood.
To attract the young, as well as the hot and the hip, the industry is spending $15 million over three years on its first image campaign, targeting young families with incomes of $40,000 or more. The theme: "Wherever you go, you're always at home." The campaign runs on 13 cable networks, as well as on Good Morning America and the Today Show.
Manufacturers are enticing other boomers with luxury coaches fitted with gizmos and gewgaws. Sales of rolling condos, at $43,000 to $75,000, increased from 52,800 units in 1995 to 55,300 units in 1996. And "the $200,000 to $500,000 unit, [although] just a sliver of the market, never has a downturn," says Humphreys.
Some high-end models, made from gutted buses up to 40 feet long, cost more than $1 million. They're fitted with washers and dryers, flat-screen TVs that descend from ceiling consoles, and global positioning satellite receivers to chart trips on an electronic map. There's even a fireplace--although for safety's sake it sports a simulated flame, with hot air blowing from a built-in grate.
Even the small units are getting snazzy, organized with the efficiency of boats and private-aircraft cabins. "There is a philosophy to RV design," said Jim Jaskoviak, vice-president for sales and marketing at Winnebago Industries Inc. "Eat two, entertain four, sleep two."
But what RVs accomplish in layout and technology is often offset by, well, taste. The most common colors this year are teal, purple, and gold--hues passe in Detroit. Research into such niceties seems minimal. When asked why the colors are so common, a manufacturer replies: "It must be what buyers want because dealers order it." Yet a dealer says: "It must be what the buyer wants because it's what the manufacturers make." There's also a lamentable industry bent for cutesy names for product lines, such as Hy-Line, Play-Mor, and Nu-Wa.
POTPOURRI AND PASTA. Still, manufacturers do try to lure more sophisticated buyers. Campers on display at the show are scented with potpourri; fancy pastas are displayed on kitchen counters; tables are set with linen and silver. Last year, camper coffee tables displayed RV mags--this year, it's Martha Stewart Living. Monaco Motor Coach Corp. offers a motor home with Ralph Lauren fabrics, walnut cabinets, and a couch in imitation distressed leather with nail-head trim. But there are few takers. Explains one dealer: "I couldn't sell it. Cabinets are too dark."
Instead, customers clamor for slide-outs--bays that extend from the body of a parked RV. Although slide-outs have been around for years, RVs now come with up to three per unit, increasing interior space up to 100 square feet. Also popular are "sport-utility" RVs, each with a built-in "garage" for jet-skis and all-terrain vehicles. The 31-foot Four Winds International's Fun Mover features a 1,600-pound hydraulic lift and can carry two touring motorcycles in its back bay. It also has a shower outside for hosing off muddy dirt bikes and a full-size shower within for the bikers themselves.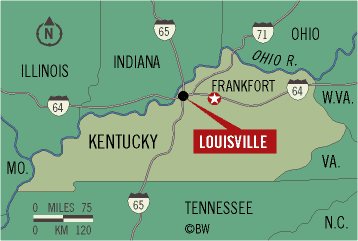 Fleetwood Enterprises Inc.'s Tioga 23B is a real attention-getter because it has four-wheel drive. The prototype is parked just behind the camouflaged motor-lab that Fleetwood custom-built for The Lost World: Jurassic Park. Its top speed is just 35 mph, and it won't be offered to the public--a relief to those who drive clogged highways.
For drivers who habitually get stuck on the highway behind lumbering RVs, there's more good news: The new models promise more diesel engines and higher horsepower. "This has more motor than you'll ever need in your life," a salesman tells a dealer perusing a $300,000 40-footer with a 450-horsepower Cummins engine. "This sucker can do wheelies." Now, maybe RV drivers will complain about getting stuck behind motorists like me.
Before it's here, it's on the Bloomberg Terminal.
LEARN MORE