U.S.: The Fizz Won't Fizzle Anytime Soon
Consumers will help to offset the drag from foreign trade
by
The economy finished 1997 with more fizz than a flute of Perrier Jouet. But even New Year's Eve champagne eventually flattens. And the question facing the outlook is how soon in 1998 will the economy's effervescence fade.
Not through the winter, and maybe not even in the spring. The latest data show that the economy started the first quarter with enough momentum to keep barreling along. Consumer fundamentals remain remarkably strong, and factories continue to fill their order books amid sparkling domestic demand (chart), even as they brace for the fallout from Asia.
On the downside will be the foreign sector. Trade probably gave a lift to growth in the fourth quarter, but it likely will be a big drag on real gross domestic product in the first quarter. That will have as much to do with seasonal factors as it does with currency gyrations and financial chaos along the Pacific Rim. In addition, the disinflationary trends expected from imports mean that price increases will remain paltry in the first half of the year.
BUBBLY CONSUMERS are the sector that will give the economy its zip well into the New Year. Households are clearly in the best financial shape they have been in years, so consumers are unlikely to cut back on purchases in coming months, especially as they take advantage of post-holiday sales.
Retailers saw only good, not great, holiday receipts, but you can't judge the strength of consumer spending based on the December reports from retailers. That's because gift-giving is increasingly slanted toward services, such as vacations or trips to the spa. Also, online shopping via the Internet exploded in 1997, and mail-order business is booming. These purchases don't always show up in the traditional retail data.
In addition, consumers are buying more goods throughout the year and less during the holiday season. That pattern shows up in the government's seasonal factor that the Commerce Dept. uses to adjust December buying at department stores. That factor has declined sharply during the past decade, implying that consumers are making fewer purchases during the holidays.
Consumer spending during the fourth quarter looks solid. Real outlays for goods and services, adjusted for inflation, rose 0.3% in both October and November, suggesting that real spending for the quarter will increase at an annual rate in the neighborhood of 2.5%. Real service outlays are set to rise at a 4% clip.
Two key factors underlie consumers' bright prospects: strong labor markets and falling interest rates. Indeed, the Conference Board's index of help-wanted advertising, culled from newspaper ads around the country, jumped from 87 in October to 92 in November, the highest reading since early 1990.
Reflecting the robust job markets, real aftertax incomes surged 0.6% in November, the largest increase in a year and a half. For the quarter, real income is set to rise at an annual rate of greater than 4% (chart). Last year was stellar for income growth, with real earnings rising about 3.5%, which explains why consumer spending increased so strongly.
Also, in late December, 30-year fixed mortgage rates dropped below 7% for the first time in two years, a psychological barrier that is sure to spur increased refinancing activity that will put more money in people's pockets in the new year.
INCREASED DEMAND from consumers will combine with steady gains in business investment to continue to power the factory sector. New orders for durable goods increased an unexpectedly large 4.8% in November. Almost all of the advance was in aircraft. Excluding planes, new bookings slipped 0.5%.
Moreover, because inventories are so lean, factories are taking longer to fill these orders. Shipments fell 0.4% in November, while the backlog of unfilled bookings rose 2.4%. Even excluding aircraft, unfilled orders increased for the fifth consecutive month.
So far in the fourth quarter, total new orders are growing at a 13.3% annual rate, while the backlog is up at an 8.8% pace. To be sure, cutbacks in Asian demand soon will start to show up in the order data. But with U.S. consumers flying high and Europe showing more strength, overall orders may not suffer too much. And a high level of demand means the industrial sector will keep ramping up production in the first quarter, leading to further gains in payrolls, which will add more fuel to consumer incomes.
A SIGNIFICANT CHUNK of this increased cash will be spent on imports, which already account for a record 31% of all nonoil goods bought in the U.S. That's especially likely since producers in Southeast Asia will be slashing their prices to export their way to recovery. In fact, foreign trade's subtraction from GDP growth could be substantial in the first half.
That drag would follow some trade improvement in the fourth quarter. The trade deficit for all goods and services narrowed sharply in October, to $9.7 billion, from $11.2 billion in September. Exports jumped 2.4%, to a record $80 billion, while imports were up only 0.4%. After adjusting for price changes, real merchandise exports increased 21.4% from a year earlier. That's pretty impressive, but real imports of goods were up 23.7% over the same time period (chart).
Looking ahead, this gap in growth between imports and exports will widen. And so will the trade deficit. Part of the reason is statistical. The seasonal factors used by the Commerce Dept. to calculate the net exports section of GDP expect little drop-off in goods exports between the fourth and first quarters, even though export growth always slows in the winter. As a result, even the seasonally adjusted data overstate the slowdown in export growth. That statistical quirk has resulted in a widening of the trade deficit every first quarter of this expansion. This year, of course, the gap will also erode because of the inflow of Asian imports.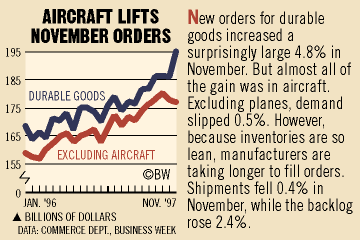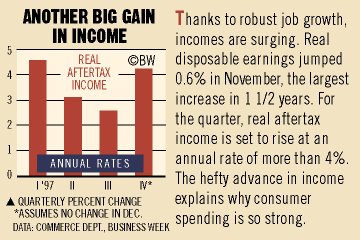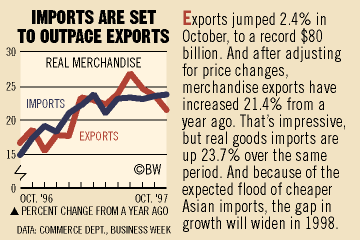 Just as in 1997, though, imported goods will act as a safety valve for the overtaxed production capacity in the U.S. The merchandise from Asia also will offset any price pressures building in the domestic economy, especially in the service sector. Already, the drop in imports has kept overall goods inflation to near zero in 1997. The prices of nonoil imported goods have fallen in 10 of the first 11 months of 1997. In November, they slipped 0.1% and stood 2.3% below their level of a year earlier.
Low inflation means that consumers will continue to enjoy better buying power. At the same time, the need to pump up output to meet a growing backlog of orders means that businesses will hire additional workers, leading to even more income gains. And in all probability, improving finances will supply the carbonation that keeps this economy bubbling into spring.
Before it's here, it's on the Bloomberg Terminal.
LEARN MORE