The Year Of The Tiger Could Be A Killer
A ripple effect from Seoul will hurt an already weak economy
By
As dispirited traders headed off to hot springs and ski resorts for Japan's extended New Year's holiday in the last week of December, they had to wonder when the economic gloom would lift. Japan may be on the verge of recession. Corporate bankruptcies are at record highs. The Nikkei index is once again in free fall. And with major trading partner South Korea on the edge of a major debt default, the Year of the Tiger looks treacherous for Japan.
Investors and ordinary Japanese have every reason to be unnerved. After a string of high-profile bank and brokerage failures, Prime Minister Ryutaro Hashimoto's government insists it has formulated plans to prevent a financial meltdown in the world's second-biggest economy. But few are buying the soothing talk. And a decelerating Japanese economy could punch a hole in the global economic outlook for 1998. Already, the regional crisis has caused forecasters to shave one-half to a full percentage point off projected economic growth around the world.
Perhaps the biggest threat to Tokyo is the ripple effect from Seoul. Japan's financial institutions, already badly stressed, have lent some $16 billion to Korean borrowers. The International Monetary Fund, the U.S., and other rich countries will deliver $10 billion in loans to save South Korea from a major foreign debt default, and on Dec. 29, a group of Japanese, U.S., and European lenders in New York agreed in principle to roll over short-term loans coming due in '98 and early next year.
Yet even if South Korea muddles through for now, Japanese banks will probably face default risk as more loans come due in the first quarter. What's more, the Korean won's sharp weakening against the yen will take a bite out of the Japanese economy. Some 65% of South Korean exports consist of semiconductors, ships, petrochemicals, and computers--all of which compete in global markets with Japanese goods. Now they're at bargain prices. Indeed, the steep declines in regional currencies will slice 1.4% from Japan's economic output next year. That means that after near-zero growth in 1997, Japan will be lucky to grow 1% this year.
True, in late December, Hashimoto unveiled a $3 billion corporate tax cut and a one-year, $15 billion income tax rebate to kick-start the economy. And the Ministry of Finance and Bank of Japan will set aside as much as $240 billion in backup financial aid to banks. But all these billions may not have any significant impact. The corporate tax cut won't do much for earnings, since Japanese companies already pay among the highest taxes in the industrialized world. And HSBC James Capel equity analyst Jason James thinks only a $40 billion annual income-tax cut, extending over several years, would get consumers spending again.
A GRIP ON DEBT? Even the huge financial stabilization fund could be no more than a Band-Aid. No one is sure how much will be used to cover depositors if another big lender goes under--or how much help will be extended to banks on the verge of default. Indeed, such bailouts might actually delay a shakeout in Tokyo's oversaturated financial sector. Worse, no one believes the Ministry of Finance has a real grip on just how bad the debt problems are at Japanese banks and brokers. To its credit, MOF is pressuring banks to adopt American definitions of nonperforming loans. Nevertheless, "the banks have been very reluctant to change," concedes a senior MOF official.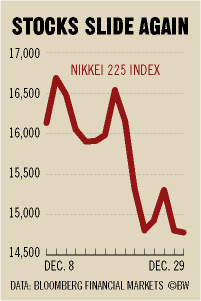 No wonder the Nikkei is reeling once more (chart, page 17). The index has fallen to 14,750, some 28% from its 1997 high. It could move lower still as investors dump shares in financial institutions, which in turn must curtail their lending to Japanese companies. Even once robust sectors such as personal computers and software are feeling the pain. PC shipments plunged nearly 11% year-on-year during the third quarter as financial woes and April tax hikes hit consumer spending. "It won't change until the Japanese economy recovers," says Masayoshi Son, president of multimedia giant SoftBank Corp. "And nobody knows when that will happen."
Probably not anytime soon, unless the Hashimoto government puts forth a serious cleanup of the financial sector and pushes through bigger tax cuts. Without such decisive action, it's small wonder that the Japanese are feeling less than festive as the New Year gets under way.
Before it's here, it's on the Bloomberg Terminal.
LEARN MORE