Lone Star: Ready To Rise?
by
Something funny happened to Lone Star Technologies (LSS) after Robert Bass and his group made it known on Dec. 16 that they might acquire the oilfield gearmaker. Its stock has tumbled to 25, after it climbed to 30 on the news. The stock dipped again due in part to the weakness in the oil sector.
No matter. Some pros say "Lone Star will be gone--gobbled up fast early in 1998." The stock hit 59 in mid-October. These experts argue that the drop affords investors a rare chance to buy at depressed levels--before a deal is sprung in the new year. One of two things will happen: Either the Bass group opts to buy the 75% of the stock it doesn't yet own, or the Basses will help Lone Star merge with another company, says one money manager.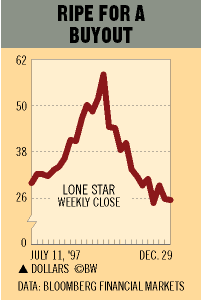 The stock was first highlighted in this column in mid-December, 1995, when it was at 7 1/2. That was when the Basses first took a shine for Lone Star and stepped up buying shares. "The stock will jump in a heartbeat once investors realize that the Basses are seriously considering a move," says one investor. Jan Loeb of Wasserstein Perella has a price target of 40.
John Harbin, Lone Star chairman and CEO, admits that such ideas have been discussed with the Bass group. He plans to hold more talks "to explore alternatives designed to advance our mutual interest." Lone Star Treasurer Charles Keszler says "we're leaving all avenues open."
Before it's here, it's on the Bloomberg Terminal.
LEARN MORE