It's The Best Of Times Or Is It?
Despite a robust economy, plenty of companies plan to downsize
David Greising
It seems incredible. The U.S. economy is chugging away vigorously in the seventh year of an economic expansion. U.S. stock markets are near all-time highs, corporate profits are strong, and the unemployment rate is the lowest in two decades. Yet the Christmas season--and the entire fourth quarter, for that matter--was marked by a wave of layoffs that will affect tens of thousands of workers. And many of the cuts are coming at companies that are still racking up strong earnings.
What's going on? Global competition has made it impossible for companies to raise prices and forced some to cut them. A strong U.S. dollar only makes the situation more difficult. So if earnings are to be maintained and improved, corporations have one alternative: cut costs. And that usually means putting employees out of work--albeit in an extremely healthy job market.
Consider General Electric Co. To get his sprawling company ready to compete in a deflationary economic environment, late last year Chairman and Chief Executive John F. Welch set in motion plans for a nearly $2 billion across-the-company restructuring, even though all GE's divisions were achieving double-digit returns.
Where Welch goes, other CEOs follow. "If GE is doing it, it's got to be a harbinger," says Gail D. Fosler, chief economist at the Conference Board. Although she remains bullish on the economy, Fosler predicts that there will be lots of downsizings and restructurings ahead. "1998 is going to be like a day when it rains but the sun's out," she says. "We are going to see layoffs and pretty good economic growth at the same time."
ASIAN BACKLASH. With the crisis in Asian economies, forecasters are paring earlier predictions of U.S. economic growth by as much as half a percentage point. That only increases the prospects for more consolidations, more downsizings, and other cost-cutting moves. Companies are already falling short of earnings estimates--many citing the Asian meltdown and the effect of the strong dollar on overseas sales and profits. Overall, 1998 profits are expected to grow 5% at best--half of the 1997 growth rate and one-third of 1996 earnings growth. One Salomon Brothers Inc. analyst puts 1998 earnings growth at closer to 2%. "It seems as though the concern about earnings is becoming much more across-the-board," says Cynthia Latta, principal U.S. economist at Standard & Poor's DRI. "The economy is much more competitive than in the past, so problems are going to be felt that much sooner."
Throughout the economy, companies are undertaking massive restructurings to try to address problems sooner rather than later. Some are the result of big mergers, such as First Union Corp.'s $16.5 billion takeover of CoreStates Financial Corp. Some aim to turn around companies that haven't thrived in the recent boom. To become more competitive with Fuji Photo Film Co. and other rivals, Eastman Kodak Co. will be laying off 16,600 employees. Levi Strauss & Co., also losing ground in its markets, will downsize by 6,400. Citing high costs in the U.S., Fruit of the Loom Inc. said in November that it will cut 2,900 jobs, or 17% of its domestic workforce, as it moves production to Mexico.
One of the most surprising cuts is coming at Boeing Co. On Dec. 16, the Seattle-based aircraft giant announced that it would cut its payroll by 12,000 in the second half of 1998. That's despite a record backlog and a hiring binge last year that brought in 41,000 workers. Boeing executives say they hope to achieve most of the downsizing through attrition but will resort to layoffs if necessary.
COLD JANUARY. In Motown, where the Big Three approach record profits, General Motors Corp. is embarking on a $2 billion-plus restructuring, still trying to downsize to match its declining market share and improve productivity. The massive charge includes the closing of the large Buick City assembly plant in Flint, Mich., the reduction of the workforce by 1,900 at its Opel Belgium operations, and the sale of dozens of Delphi auto-components plants. Eventually the company hopes to reduce its workforce by more than 40,000 workers by the middle of the next decade.
"They're leapfrogging each other," says John Challenger, executive vice-president of the outplacement firm Challenger, Gray & Christmas Inc., of the cross-country tit-for-tat. "And they won't be alone. January is traditionally the worst month for layoffs."
That's when AT&T's new CEO, Michael C. Armstrong, will announce his restructuring plans. In December, he made a deal to sell off AT&T's Jacksonville (Fla.)-based Universal Card Services unit to Citicorp. In addition, he's expected to eliminate positions at headquarters and at the long-distance business--as many as 5,000 jobs.
The Universal Card sale is also expected to result in layoffs. And that has folks in Jacksonville spooked. The town has seen Barnett Banks Inc. swallowed up by NationsBank Corp. and National Australian Bank buy local mortgage company HomeSide Inc. Ultimately the deals will result in lost jobs in Jacksonville. Loreen Wiggins, an employee in Universal Card's collection department, and her husband, George, are nervous. They didn't exchange Christmas presents and for now, she says, "we're putting off plans of starting a family."
The biggest job losses are likely to come in industries such as banking that are undergoing the fundamental changes. Bank holding companies are buying regional banks to offer interstate banking and a new range of financial services. As prices have spiraled upward, management has had to effect deeper post-merger cuts to make their deals pay off. In the wake of its purchase of CoreStates, analyst Claire M. Percarpio of Janney Montgomery Scott Inc. says First Union may eliminate up to 5,500 of 18,000 jobs.
Now, analysts are wondering if Wall Street will be the next sector to start downsizing. At 287,000, Wall Street employment has surpassed the peak set in 1987. The mergers of Morgan Stanley & Co. with Dean Witter, Discover & Co. and of Travelers Group Inc. with Smith Barney Inc. should take a bite out of that record.
The Asia crisis could lead to more layoffs on the Street as well. "We've seen many of the investment firms ramping up, especially for the Asian markets," says Michael Flanagan, owner of Financial Service Analytics. "Now we're going to see employment declines from ongoing consolidation."
Another pattern to watch for is revamping overseas operations. "There's a lot of talk about growth, but not very much successful action, so they're looking at the cost side," says Patrick M. Byrne, managing director of consultants A.T. Kearney Inc. That's why, for example, both Philip Morris Cos. and RJR Nabisco Inc. have announced plans to cut jobs internationally. RJR is cutting its tobacco business to become more cost-competitive, while Philip Morris is trimming from its international food business.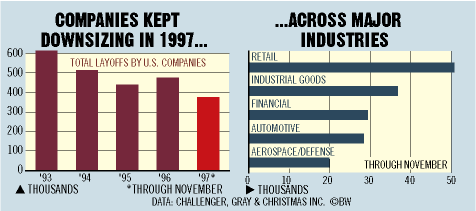 Back in the U.S., at least, downsized employees can take comfort in the robust job market. Economists and employment experts expect the unemployment rate to remain relatively stable at less than 5% for the next year. They also point out that companies getting rid of one type of worker often are hiring others simultaneously. "It may look like downsizing, when in fact what they're doing is rotating people to what is needed," says Mitchell S. Fromstein, chairman and CEO of Manpower Inc.
That's small comfort to Jacksonville Mayor John A. Delaney. "When I look at the numbers, I say, `This is going to be O.K.,"' he says. "But when I walk through the grocery store and see worried people, you can't help but think of the human level." The mayor of Rochester, N.Y.--home of Kodak--is equally bitter: "It was like the layoffs were almost a footnote to their restructuring charges," grouses William A. Johnson Jr. Indeed, layoffs and restructurings have become standard operating procedure--in good times and bad.
Before it's here, it's on the Bloomberg Terminal.
LEARN MORE