As Some Investors Get The Boot...Others Line Up At The Door
Sethuraman Dinakar
The threats came on a Wednesday evening last August. Within hours, Jerry Koleth, his wife, twin kids, and a colleague were racing to Almaty's ramshackle airport to take the early morning flight out of Almaty. Koleth, managing director of Satel, a joint venture between Australia's Telstra Corp. and Kazaktelecom, bolted overnight because Kazakstan's tax police threatened criminal proceedings against the company. Only a few days earlier, a British businessman was arrested on similar grounds in Almaty and shown in handcuffs on TV. Telstra says it broke no law. But the tax charge succeeded in driving it out of the joint venture--at least for now.
And Telstra isn't alone. In the past two years, companies big and small have been nudged out of this oil, gas, and mineral paradise. Victims include companies such as U.S. oil major Amoco, Canadian mining enterprises Teck and Placer Dome, Switzerland's ABB Asea Brown Boveri, and Germany's Deutsche Telekom. All had won the right to bid, were awarded licenses, or bagged contracts only to have them revoked as the Kazaks shifted loyalties to companies that offered fatter bonuses and quicker returns. "The rules of the game keep changing," complains one Westerner in Almaty.
Why are the Kazaks taking chances on alienating the investor community? Because they're in a strong position, sitting on 100 billion barrels of oil, and they're desperate to turn those assets into cash. President Nursultan Nazarbayev, who has ruled by fiat since independence in 1991, largely privatized Kazak business over the past four years. But few benefits have trickled down, and as this landlocked nation of 16 million becomes more decrepit, Nazarbayev is losing support and demonstrations and strikes are on the rise.
Kazakstan's ambiguous tax laws make it easy for the Kazaks to walk out of contracts. "Many laws are badly written," says James Varanese, representative for LeBoeuf, Lamb, Leiby & McRae, a law firm that advises foreign and Kazak companies in Almaty. "And the people who implement them often behave arbitrarily." Bearing the brunt are investors such as Telstra. Kazaktelecom, which owns 60% of Satel, had long resented that Telstra, with 40%, exercised management control under the contract for the three-year-old telecom venture. Pressure mounted when Kazaktelecom refused to sign Satel's re-registration documents--a passport to operating in Kazakstan--and denied it a telecom license. It then rapped Satel with a $3.5 million tax penalty, froze its bank account, and confiscated its funds. Telstra quit.
For the moment, Nazarbayev & Co. seem to be mellowing a little. In September, the government canceled the law that allowed the tax inspector to seize company assets, and it is negotiating with Telstra. "We have learned from the past and are not committing the same mistakes," says an official of the State Committee on Investment. Maybe--but in the past few months, two more Canadian mining companies, World Wide Minerals and Kazakstan Goldfields Corp., were given the boot. Both are taking the government to international arbitration.
Despite gripes about Kazak capriciousness, a new breed of investors is queuing up. John Komarnicki, 48, head of Hurricane Hydrocarbons, a Calgary (Alta.)-based oil outfit, is typical. His scrappy outfit, which until last August was dredging out 50 barrels a day in Canada, now holds 340 million barrels in reserves at Kumkol in dusty, windswept south Kazakstan. When oil majors hesitated to buy Yuzneftegaz, an oil and farming collective, Hurricane paid $120 million for an 89.5% stake and agreed to invest $280 million.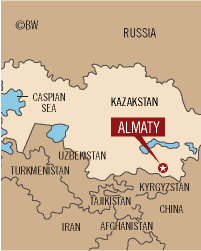 "Younger players are flexible, act fast, and are willing to take more risks," says John Menzies, a 45-year-old Australian whose upstart Vancouver outfit, Steppe Gold, bagged 8.5 million hectares of exploration licenses over the past two years. But Asian heavyweights Daewoo Corp. and Chinese Petroleum Corp. are in the running, too, having sunk $1 billion and $9 billion, respectively, into telecom and oil. And so far, Chevron Corp. is staying the course with its huge investment in the Tenghiz oilfield. But even titanic companies must show patience and dexterity in Kazakstan. It's no place to make an easy buck.
Before it's here, it's on the Bloomberg Terminal.
LEARN MORE