A Seductive Subprime Lender
by
The greater the risk, the bigger the reward. That's the heart of subprime mortgage lending--or loans to less credit-worthy borrowers. The huge spread between the cost of funds and the high rate of interest that lenders charge has made the business lucrative. But it's also risky, and the group has been under severe pressure. Still, money manager Vince Carino likes Southern Pacific Funding (SFC). It attains a high internal rate of return because of lower loan-origination costs, notes Carino, president of Brookhaven Capital, which recently acquired a 6% stake.
Its stock, at 11, has fallen from its 52-week high of 25 during the market's recent volatility. And the shorts have helped pull it down: Short interest in Southern Pacific is 3 million shares, or about 27% of the shares in public hands. The shorts contend that the company is short on capital--the bulls think not. Carino expects the company to sell part of its loan portfolio at a premium--for $120 million. That should ease concerns about a shortage, he argues.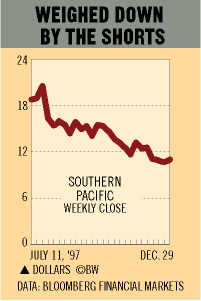 But one event that could force the shorts to run for cover: a buyout. A New York investment banker says Southern Pacific officials have been holding "advanced talks" with high-level brass at a major financial-services firm. The buyout price being discussed: 18 a share. Southern Pacific CFO Peter Makowiecki declined comment.
Analyst Jennifer Scutti of Prudential Securities notes that in the past few months, Southern Pacific has strengthened its fundamentals through more conservative accounting, increased loss reserves, and lower overhead expenses. She sees earnings of $2.60 a share, up from an estimated $2.23 in 1997.
Before it's here, it's on the Bloomberg Terminal.
LEARN MORE