Year 2000: The Meter's Running
The cost of defusing the millennium bomb is exploding
Neil Gross
Scores of programmers are frantically scrutinizing the software on every computer at Alabama Gas Corp. and its parent, Energen Corp., in Birmingham, Ala. Within weeks, they will begin ferreting out and changing all two-digit year dates that could suddenly revert to 00 at the stroke of midnight on Dec. 31, 1999. The fear: Critical programs could interpret the two zeros as the year 1900--and crash.
Energen is in pretty good shape, says L. Brunson White, vice-president for information technology. But the Year 2000 problem has been an appalling drain on resources. The bill for Energen's army of consultants and testers will soon be in the millions--money White could have spent on hardware and software upgrades. "There's a huge amount of work that just got put off," he grumbles.
CONSULTING BONANZA. White isn't the only one complaining. For thousands of companies and government agencies around the world, the Year 2000 problem--Y2K for short--has become the biggest headache this side of the millennium. To fix it, U.S. companies will spend a total of $14 billion on outside consultants and programmers, predicts market researcher Dataquest Inc. Internally, they could spend triple that sum. Throw in new hardware and software purchases, and the worldwide bill could balloon to $600 billion, estimates Gartner Group. For companies, about half the money will be new funds budgeted for Y2K, according to SoundView Financial Group. But the remainder will be money they would have spent on other needed technology.
The cost of Y2K is good news for high-tech consulting firms such as Ernst & Young, Keane, and Andersen Consulting. But for many companies, the impact could be disastrous. Still, there's little choice. "If companies don't spend, their systems will fail," warns John A. Bace, a Gartner Group research director. "They'll die." Too few heads of industry have gotten the message. Only 37% of executives polled by BUSINESS WEEK say they are "very familiar" with the problem.
For large companies, the bill can be astronomical. In 1997 alone, CSX Corp. spent $35 million to $40 million on Y2K, says Chief Information Officer John Andrews, and the company is only 30% finished with the process. In Europe, the problem is compounded by the coming switch to a common European currency at the same time. And in Britain, 11% of British companies, accounting for 27% of gross national product, may miss their Y2K targets, says International Data Corp.
Y2K could also wreak havoc on governments. According to a U.S. Office of Management & Budget report issued on Dec. 16, barely one-quarter of federal systems are ready for Year 2000. One big trouble spot: the Transportation Dept., which operates the air traffic control system. Overall, Washington will spend nearly $4 billion fixing Y2K in more than 8,500 separate systems.
PLENTY OF LAWSUITS. Lawyers will make out well on Y2K. The first known Y2K-related lawsuit involved Produce Palace International, a Warren (Mich.) grocer that sued Atlanta-based TecAmerica Corp. over a point-of-sale system it installed in 1996. The system rejected credit cards with Year 2000 expiration dates. Other suits have cropped up, and law firms are now expecting billions of dollars in litigation.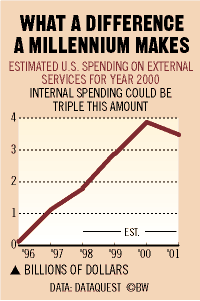 Consultants are also happily mining the millennium cloud's silver lining. Ernst & Young has already booked half a billion dollars in Y2K fees, and CACI International Inc. in Arlington, Va., is raking in money testing code for companies and state agencies. CACI Senior Vice-President Michael F. Guido says smart companies use Y2K as an excuse to reengineer business processes and install new software from the likes of PeopleSoft, Germany's SAP, and the Netherlands' Baan.
But such conversions cost millions of dollars and take several years. For big companies, "starting now is out of the question," says Gartner's Bace. They'll have to fix date-errors one by one--a draining ordeal sure to hurt corporate efficiency. That means a lot of companies will be ringing in the millennium with dread--and depleted coffers.
Before it's here, it's on the Bloomberg Terminal.
LEARN MORE