Welcoming Spanish Speakers To The Web
Fast-growing StarMedia is racing to fill the niche first
Leslie Brown
Because the Internet goes wherever phone lines do, it's a nifty way to expand a company's markets without spending a bundle on foreign subsidiaries. But this global electronic market won't flourish unless the Web sites, news services, and other "content" areas speak the right language. That's why startup StarMedia Network Inc., an operator of a Spanish- and Portuguese-language online network primarily aimed at Latin America, has attracted heavyhitter partners ranging from CBS to Ziff-Davis Publishing, and large advertisers such as Citibank, which signed up in late December to promote services including retirement plans and credit cards to a growing audience of Internet users in Latin America.
Not surprisingly, in the year since StarMedia began offering free E-mail, news, and chat services to attract cyberconsumers, the site has grown rapidly. It now averages 380,000 daily hits from a user base of 253,000.
StarMedia is the brainchild of two 31-year-olds: Fernando Espuelas, StarMedia's chief executive--and the former managing director of marketing communications at AT&T--and Jack Chen, the company's president and a former securities analyst at Credit Suisse First Boston. The two saw a void in Spanish-language content on the Internet and moved to fill it. Espuelas and Chen combined their skills and $500,000 in capital from their own bank accounts and those of friends to fund the startup.
After seven months, they had achieved enough success to entice outside venture capital. The startup bagged $3.5 million from two Chase Manhattan venture capital firms, Chase Capital Partners and Flatiron Partners and another $150,000 from Henry R. Kravis' New York City Investment Fund.
The company hopes to raise $10 million for its next growth spurt--to 7.5 million users per month by July, 1998. Whether this expansion goal will prove doable is uncertain, but many analysts--based on the expected growth in PC sales--are optimistic. Advertisers are also encouraged: StarMedia, which already sells software and books online, is finalizing deals with major U.S. suppliers of PCs and CDs.
TEAMING UP. The strategy is simple: Build on being the first Internet service to cater to Latin American PC owners on a regional basis rather than country by country, and try to keep a step ahead of the inevitable competition. So far, the positioning has allowed StarMedia to make deals with Fox Latin America for sports and children's programming, with Dow Jones for financial news, and with Viacom Spelling Entertainment Group for TV show Melrose Place and other nighttime soap operas.
However, it may not be out there alone much longer. "Anytime there's only one game in town and they're doing well, everyone wants to come on board," says Peter Blacker, director of international sales for StarMedia partner CBS Telenoticias. CompuServe Inc., the No.2 worldwide online service, is available in six Latin markets. Another major provider in the U.S., Prodigy Inc. says its plans to launch service in early to mid-1998 are on track as well. Finally, the 800-pound gorilla, America Online Inc., the No.1 worldwide online service, is evaluating the turf in one of the few markets it has not yet penetrated. "It's just a question of finding the right partner and the right circumstances," says Jack Davies, president of AOL International.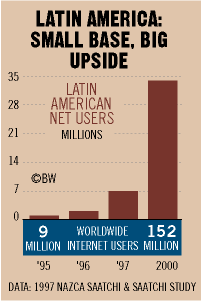 The region's draw is the growth rate of Internet users there--100% to 200% annually, according to market researcher International Data Corp. Still, the market is fractured because of different levels of local and long-distance telecom services and varying regulations governing those services. Countries with more liberal telecom laws, including Brazil and Mexico, are expected to have faster growth.
StarMedia is appealing to consumers who want to use the Net but aren't native English-speakers. Until now, an estimated 2% of Web sites have been in Spanish. StarMedia is aiming to make that a problem of the past.
Before it's here, it's on the Bloomberg Terminal.
LEARN MORE