U.S.: Ending The Year With A Bang
The economy has momentum--and Asia's slowdown will keep inflation low
by
Amid the Asian meltdown and all the uncertainties it raises, are forecasters becoming overly pessimistic about the U.S. economy's prospects in 1998? In BUSINESS WEEK's annual survey of forecasts for the year ahead, economists project that, after an expected 3.7% growth rate in 1997, the pace will drop off immediately in the first half to a 2.3% annual rate, the same gait expected for the full year.
But look at the momentum that is building. In the fourth quarter, consumer spending is set to post solid gains, given faster job growth and higher confidence than at the beginning of the year. Industrial production is accelerating to its quickest pace in a year and a half, as increases in business sales continue to outpace inventory growth (charts). And housing starts are rising, with long-term interest rates still falling. All the while, inflation remains a no-show.
These trends reflect a bustling domestic economy that, while maybe not impervious to downdrafts from overseas, is very resilient. Moreover, the Asian mess is having one important side effect that is stimulative: It has aided a bond-market rally that has taken long-term interest rates to under 6% for the first time in nearly two years. The yield is down three-fourths of a point just since September, and the full impact will still be working its way through the housing and durable-goods sectors early next year.
As for short-term interest rates, the Federal Reserve left credit conditions unchanged at its Dec. 16 policy meeting, as was broadly expected in the wake of shaky world financial markets. To be sure, the year's half-percent decline in core consumer inflation, excluding energy and food, has lifted real short-term rates without any Fed action. However, given the economy's current thrust, that implicit tightening of policy appears to have had little impact.
THE LATEST DATA TELL a consistent story of strength, both now and to come. Let's start with consumers. Retail sales rose a tepid 0.2% in November after declining in September and October. But much of that pattern reflects the ups and down of car sales. Excluding autos, retail purchases rose modestly in each of the past three months, and the contribution by households to fourth-quarter growth in gross domestic product is shaping up to be considerable.
For example, unit sales of motor vehicles are what go into GDP, as opposed to the dollar values used in the retail sales data. And unit sales of cars and trucks rebounded strongly in November to an annual rate of 15.2 million, from 14.7 million in October. That jump will boost durable-goods purchases sharply. Moreover, sales of services were vibrant in October and are likely to remain solid as services play an increasing role in holiday buying.
In addition, December retailing appears to be off to a brisk start. After seasonal adjustments, sales in the first two weeks surged 1.7% from the November level, according to LJR Redbook Research. Sales were up a sturdy 5.2% from a year ago, a pace that suggests at least good, but not great, holiday activity. Add it all up, and real consumer spending is on track to grow at an annual rate of at least 3% for the quarter.
STRONG DEMAND GENERALLY is keeping inventories under control and allowing companies to ramp up production. Stockpiled goods of manufacturers, wholesalers, and retailers rose 0.4% in October, as business sales dipped only 0.1% after surging 1.3% in September. Taken in three-month chunks--to smooth out the trend--inventories are rising at a 3.5% pace from a year ago, but sales are running at nearly a 5% clip. Sales growth has outpaced additions to stockpiles for a year and a half, and as long as that pattern continues, production will be free to grow in line with demand.
Indeed, industrial production jumped 0.8% in November, and output in the manufacturing sector alone, excluding mining and utilities, surged 1%, led by big gains in auto production and output of information-processing equipment and parts, a sign that business capital spending in the fourth quarter remains strong. Factory production is steadily accelerating, and for the quarter, it appears to be rising at an annual rate in excess of 7%, the fastest pace in a year and a half.
Also, amid sturdy output gains, the capacity utilization rate continues to rise toward levels that typically precede the onset of production bottlenecks. The operating rate for all industry rose to 83.2% in November, the highest level in more than two years.
Like manufacturers, builders are getting a boost from the solid demand that cannot be fully satisfied by the inventory of new homes already finished. Housing starts rose for the third month in a row, advancing 0.8% in November to an annual rate of 1.53 million.
Moreover, the data suggest that building activity will remain strong. Builders themselves ended 1997 more upbeat than in the first half. The National Association of Home Builders' housing market index rose in December to 59, from 56 in November. The December reading tied with September's as the highest level for the year (chart). Increased construction reflects a low number of unsold new homes. At the start of the fourth quarter, developers had only a 4.4 months' supply of unsold homes, a lean level by historical standards.
HOME BUYING IS MORE LIKELY to strengthen than wane in coming months because interest rates are falling at a time when job and income growth remain solid. The average rate of a 30-year fixed mortgage is nearing 7%, which means that a homebuyer may be able to save almost $90 a month on a $100,000 mortgage now compared with one obtained last April.
Moreover, interest rates are likely to continue to fall, in part because the outlook for inflation remains benign into the first half of 1998. Consumer prices rose just 0.1% in November, and producer prices of finished goods fell 0.2% in the month. And excluding food and energy, core inflation is equally tame. So for the year, core consumer prices are likely to rise little more than 2%, while core producer costs probably will be lower than at the end of 1996.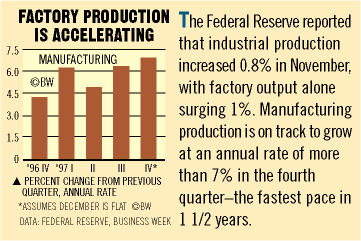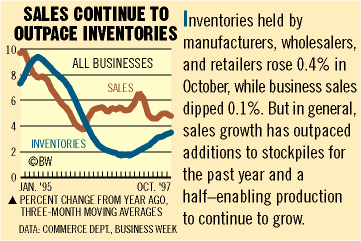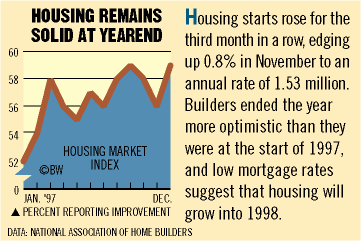 In coming months, expected price cuts in Asian imports will help offset any price increases generated domestically. If anything, it appears that the bigger inflation pressures will come from services, where core prices are rising 2.9%. That's because labor markets are exceptionally tight in services, where foreign competition is largely absent but where yearly wage growth has sped up to a 4.5% pace.
As it stands, the Asian crisis looks as if it will have a greater impact on inflation than on slowing growth. Indeed, the economy is heading into 1998 with such a big head of steam that nothing from Asia, the Fed, or the stock market will be able to curb the momentum until well into the New Year.
Before it's here, it's on the Bloomberg Terminal.
LEARN MORE