Time To Shift Out Of Cruise Control
The investment terrain is a lot bumpier. BW's guide will help
Karen Pennar
Over the past three years, it hasn't taken a genius to make a mint in the markets. Anyone could shovel money into an index fund that mimicked the Standard & Poor's 500-stock index, then sit back and watch the money grow, with gains nearing 30% annually. Investing had become a no-brainer.
Well, those days are over. In 1998, investors will have to be a whole lot smarter, a whole lot pickier, and a whole lot luckier. They're also going to have to keep close tabs on global news: As events of recent months have shown, what's going on in Seoul can send shock waves through Silicon Valley. The U.S. bull market may be far from over, but its endurance is being sorely tested. Global stock markets are jittery. New investment opportunities sprout daily, but their promise is uncertain. So BUSINESS WEEK, in its annual yearend appraisal of the investment landscape, shows you how to negotiate the terrain--how to avoid the pitfalls, how to seek out the hidden treasures, and where to head for higher ground when trouble looms.
First, you should survey the economic scene. The global slowdown, precipitated by the financial crises in Asia, may be just what the doctor ordered as far as inflation hawks at the Federal Reserve are concerned. Rising imports and slowing exports should dampen U.S. growth and keep a lid on prices, obviating the need for any near-term tightening of interest rates. Economic output is likely to grow about 2.4% in 1998, down from 1997's robust 3.7% gain. Import competition, wage pressures, and slowing demand for U.S. goods won't spell a happy story for earnings, though, and it's the stellar performance of U.S. corporations, more than anything, that has propelled stocks higher in recent years. Expect earnings to grow about 6% in 1998, down from 11% in 1997 (p. 159).
Now that you know there's limited upside potential for stocks, what to do? You might want to plunge into Asian markets, figuring there are great buys. But use caution, or at least be ready for things to get worse before they get better. South Korea's problems are far from over, and Japan's economy remains the wild card. In Latin America, meanwhile, Mexico looks good, while other markets are more iffy. And if you want to enhance the international flavor of your portfolio without taking a risk in emerging markets, Europe looks attractive, thanks to restructuring and merger fever.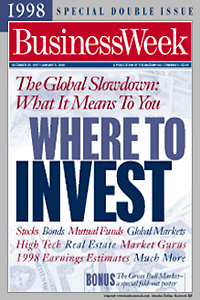 While contemplating geographic diversification, you might review your allocations. You could put more money in fixed-income investments, always a decent bet when interest rates don't seem headed higher. You could work out some elaborate options strategies to protect your investments. You could wade into high-tech investments just as some folks are bailing out; despite bad news in that sector, there should be some good performers in 1998. Or you could try real estate, which offers a wider range of investment options.
No question, investors will have to expend a lot more energy and attention in refining their portfolios in 1998. If they're smart they should be rewarded for their effort.