Tech Stocks To Hang On To
by
In July, global money manager Tim Morris did something that he's happy about now: He started slashing his holdings in international stocks, which have fallen from 30% of his portfolio to 15%. In their place, Morris, chief investment officer in the U.S. of Bessemer Trust, beefed up holdings in small-to-mid-cap domestic stocks--those that have market capitalizations between $500 million and $3 billion. But there was one thing Morris won't do even now: reduce the $15 billion portfolio's exposure to high-technology stocks.
He hasn't lessened Bessemer's 16% stake in mid-cap technology stocks and the 13% of its holdings that are in large-cap high-tech issues. His current top two picks: Cisco Systems (CSCO) and P-Com (PCMS).
Both had been battered, along with other high-techs, partly because of investor edginess over the Asian turmoil. Cisco, which hit a high of 90 7/16 on Dec. 1, plunged to 76 by Dec. 12. On Dec. 16, however, it was back up to more than 80. Morris thinks that the stock will reach 100 in the next 12 months. Investors had been nervous about the rising level of inventories at Cisco, which is a maker of routers and switches that connect and manage communications among local and wide-area computer networks.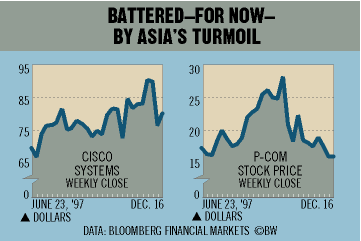 But Morris is comfortable with the ebb and flow of inventories. He forecasts earnings of $2.61 in the year ending July 31, 1998, and $3.30 in fiscal 1999, up from 1997's $2.05.
P-Com, a maker of microwave radio systems used in the worldwide wireless telecommunications market, has limited exposure in Asian markets, where it sells only 5% to 10% of its products. Its core customers are in Europe: Bosch Telecom, 14% of sales; L.M. Ericsson, 14%; and Itatel, 10%. And P-Com has good prospects in Latin America, says Morris. He expects P-Com to earn 47 cents a share this year and 70 cents next year. "Worldwide demand is excellent," he says. Morris figures that the stock, now at 16, could work its way back to its 52-week high of 29.
Before it's here, it's on the Bloomberg Terminal.
LEARN MORE