Summit: Ripe For An Assault
by
Summit Bancorp (SUB) isn't a new name to investment pros scanning the banking universe for potential takeover candidates. Formerly known as UJB Financial, Summit is the largest independent bank in the state of New Jersey. "It is also the most attractive bank on the East Coast: Several major banks have been looking to acquire it," says money manager Neil Eigen, managing partner at J&W Seligman, a 133-year-old investment firm that manages assets of $20 billion.
Eigen was chief investment officer at Bear Stearns for seven years before joining Seligman back in January, 1997. The steady rise in Summit's stock price since June, when it was trading at 27, has been fueled partly by takeover whispers. Eigen thinks that the stock, now trading at 50, will soon wing up to 60. But he is convinced that Summit will fetch at least 65 in a buyout.
Eigen says that such major banking players as NationsBank, Banc One, and Citibank have been looking at Summit, but he says he has no inside knowledge of any talks between Summit and potential suitors.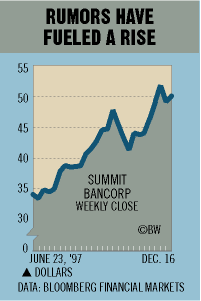 He thinks that, based on the price paid by First Union when it acquired CoreStates Financial--five times book value--Summit is "a more appealing buy" at 65. Summit's book value is estimated at $15 a share. "If it gets an offer of 65, equivalent to 23 times estimated 1998 earnings of $2.80 a share, Summit's gone," predicts Eigen. It is "only a question of when" Summit, which has assets of $29 billion, will be acquired, he says. It currently operates 450 branch offices in New Jersey and eastern Pennsylvania, plus 600 automated teller machines.
Says Sean Ryan, a banking analyst at Bear Stearns: "Summit represents the last, best hope for any super-regional bank that hopes to compete" in the East.
Before it's here, it's on the Bloomberg Terminal.
LEARN MORE