Portugal: A Fit Host For The World's Fair
By
Portugal is poised to enjoy one of the fastest growth rates in Europe in 1998. And a strong economy as well as fiscal discipline should enable it to become one of the founding members of the European Monetary Union--a scenario thought impossible a year ago.
According to the latest forecast of the Organization for Economic Cooperation & Development, Portugal's real gross domestic product will grow by 3.7% in 1998. That's better than the 3.4% rate of 1997 and above the 2.8% expected for the entire European Union. Exports will be a driving force, but consumer spending is set to perk up, too. Growth also will be helped by lower interest rates and a surge in tourism when Lisbon hosts the 1998 World's Fair.
Solid growth will make it easier for Portugal to keep its fiscal deficit below the Maastricht Treaty target of 3% of GDP. For the first 11 months of 1997, the deficit was 17% less than in the same period of 1996, and it's expected to be 2.7% of GDP in 1998. The Socialist government has trimmed spending, while the strong economy has lifted revenues. Tax receipts have risen 8% so far in 1997, led by a 12.5% jump in value-added taxes, a result of gains in demand. In addition, the Portuguese escudo's value vs. that of the German mark is within the 15% target set for the EMU. And Portugal probably will lower interest rates soon, since the Bank of Portugal got some leeway to cut when the Bank of Spain unexpectedly trimmed its rates on Dec. 15.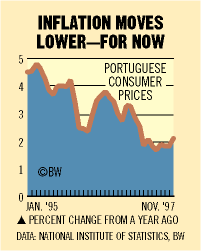 If there is a dark cloud in the outlook, it is inflation. Consumer prices in November rose a big 0.4%, boosted by a surprise jump in food prices. The annual inflation rate went to 2.1% in November, from 1.8% in October. Even so, inflation is on course to finish 1997 at its slowest pace in 34 years (chart). By the end of 1998, however, tight labor markets are likely to mean rising wage pressures. The jobless rate is expected to slip to 6.3% in 1998, from 6.8% in 1997. Even with the threat of higher inflation, though, the prospects of solid growth and EMU entry put Portugal in an enviable position for 1998.
Before it's here, it's on the Bloomberg Terminal.
LEARN MORE