Commodities: A Bushel Basket Of Woes
For most investors, there'll be no hiding from weakened demand and lower prices
Andrew Osterland
Turmoil in Asia is making a basket case of commodities markets. While the largest El Nino of the century might normally help prices in agricultural markets, it's being overshadowed by a slowdown in the fastest-growing region of the world. With bad news spreading to the larger economies of Korea, Japan, and China, everything from copper to corn to crude oil faces weaker demand and lower prices. And gold, the traditional refuge in times of crisis? Forget about it. Low inflation and bullion sales by central banks could keep gold in a free fall that has sent it to its lowest level in 18 years.
Gold isn't the only metal melting down. Industrial metals, particularly those used extensively in construction such as copper and zinc, are weak as well. "We're generally avoiding all of them," says Derek Van Eck, manager of the Van Eck Global Hard Assets fund. For the past decade, Southeast Asia has been the fastest-growing source of new demand for metals. With banks failing and infrastructure projects being shelved throughout Asia, that demand has dried up overnight. Compounding the problem, new copper mines are opening in Chile and Indonesia. Lower demand and rising supply should prevent copper from rallying from its three-year low of 79 cents per pound.
CRUDE PRICE. Oil faces the same dismal prospect. Ann Louise Hittle of Cambridge Energy Research expects global demand to grow 2.1% in 1998, down from 2.3% in '97. Meanwhile, oil production is expected to increase nearly 4% next year. There's also the possibility that the U.N. Security Council will allow Iraq to increase its oil exports in coming months. With little excess supply in the market right now, however, most energy analysts think the price of crude, down 26% through Dec. 9, won't drop much below $18 a barrel. But it probably won't rise much either.
Natural gas prices could be more volatile this winter. If El Nino--the giant current of warm water off Peru--plays out as expected, the cool autumn experienced in North America should be followed by a mild winter. That would be bearish for natural-gas prices, which are currently down 40% from an all-time high of $3.75 per thousand cubic feet last October. It would have to be a very unusual El Nino--or a cold winter to spark gas prices this year.
Agricultural commodities are likely to be buffeted by cross-currents in 1998. They probably will experience a dampening of demand from Asia. But world grain supplies are tight. Were it not for bumper crops in the U.S., soybean and corn prices would be up more than the 28% and 11%, respectively, that they were in 1997.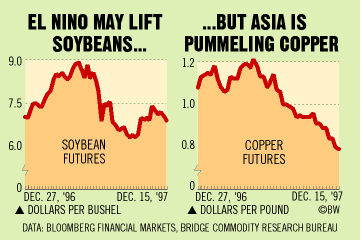 El Nino is expected to bring too much rain for crops in North America and too little to Asia. Cocoa, coffee, and sugar supplies also are tight, and prices could jump on bad weather news. Coffee growers, for example, are talking again about damage to crops from high winds. But they did that last year, causing prices to more than double before they started shipping beans aggressively. Merrill Lynch & Co. analyst Judith Gaines says prices may rise again this year on bad weather news, but not as dramatically as the 150% gain in 1997.
If you're into coffee futures, maybe you'll be able to smile by the time 1998 is over. But in a year marked by Asian turmoil, most commodity investors will have a hard time staying out of the red.
Before it's here, it's on the Bloomberg Terminal.
LEARN MORE