At 7 1/2 Cents A Minute, Who Cares If You Can't Hear A Pin Drop?
Why long-distance Internet calling is about to take off
Steven V. Brull
How can Qwest Communications Corp. get away with charging just 7 1/2 cents a minute any time for long-distance calling--the ultra-aggressive pricing it announced on Dec. 15? For one thing, according to President and Chief Executive Officer Joseph P. Nacchio, "Long distance is still the most profitable business in America, next to importing illegal cocaine." As head of long-distance marketing for AT&T until last year, he should know.
Actually, Qwest can make its audacious offer--and still match AT&T's 17% to 20% net margins--because it sends its traffic over a private fiber-optic network using Internet technology. That method, says Nacchio, is far more efficient than that of the conventional carriers. Indeed, if Qwest makes its mark in long distance, it won't be for undercutting AT&T's best all-day rate by 50%--it will be for proving that Internet-based calling can steal significant amounts of traffic from ordinary long-distance circuits.
EASY TO USE. Qwest's offer heralds the coming of age of Internet telephony. Just a couple of years ago, making phone calls over the Internet was a challenge reserved for computer whizzes. Consumers still will have to dial a few extra digits to make cheap calls. But now, improved PC-based software and routers make it possible for Internet service providers to accept standard telephone and fax calls and send them over the Internet or private data networks and then back to the conventional phone network.
As a mass market develops, companies such as AT&T could lose millions of customers and billions in revenue to Internet calling. "In the next 24 months, we'll see a rapid migration," predicts Nacchio. Between 1998 and 2001, as much as $8 billion could be lost to Internet telephony, says Sim Hall, vice-president of research at Action Information Services of Falls Church, Va. "Internet telephony is going from novelty to mainstream next year," agrees Jeffrey Kagan of consultants Kagan Telecom Associates.
Besides being more efficient than standard voice networks, which consume bandwidth even when there is silence during a call, the new networks also bypass conventional long-distance carriers, who must pay local-access charges and taxes. Such fees make up 40% of the typical long-distance charge, Hall notes.
Unlike the pioneers of Internet telephony, bigger companies like Qwest mostly route traffic over their own networks. That lets them manage capacity to avoid the scratchy sound and half-second delays of some Internet phone setups.
Qwest isn't the only company with big ambitions in Net calling. WorldCom Inc.'s Internet division, UUNet, is taking aim at the $92 billion fax market. Early next year, it will offer nationwide faxing for 10 cents a minute, compared with the typical business rate of 15 cents a minute. International faxes to Britain will cost 19 cents a minute, half the average rate now.
Denver-based Qwest, which is building a $2 billion nationwide fiber-optic network, will offer its 7.5 cents rate on calls anywhere in the continental U.S. starting in late January in nine western cities. The network will expand to 125 markets in early 1999, when Qwest's national network is scheduled to be completed. Qwest also plans fax, videoconferencing, and other services.
Established long-distance providers are making their own forays with the new technology. In August, AT&T began offering domestic and long-distance calls from Japan at 40% off normal rates. Japan's Kokusai Denshin Denwa Co. created a subsidiary offering similar services worldwide on Dec. 16. MCI Communications Corp. and Deutsche Telekom are running trials.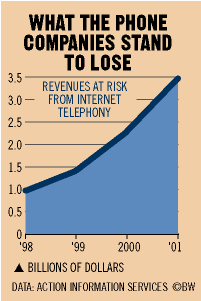 While the data networks will help cut domestic long-distance rates, the big impact will be on international calls. The average long-distance call in the U.S. costs about 13 cents a minute, but the average international price is 89 cents, Hall says. The gap has little to do with the extra cost of an international call, which is marginal. Rather, it reflects the pricing power of a small group of suppliers.
Hall predicts that phone company revenues per minute on international calls will fall more than 20% annually through 2001 and continue to decline. "The wheel has been set into motion," says Hall. Nobody knows how far it will spin, but at this point, it looks as if consumers will be the winners.
Before it's here, it's on the Bloomberg Terminal.
LEARN MORE