A discount store on Park Avenue? That's what Syms (SYM), the off-price clothing retailer, has put up in fashionable midtown Manhattan. A 3.6% jump in six-month revenues through Aug. 30 reflects upbeat sales at the Park Avenue store. Even so, the Street isn't impressed: The stock, trading at 11 3/4 on Dec. 16, is down from its high in late September of 14 15/16.
At that price, "Syms's stock appears to be a greater bargain than its merchandise," says investment manager Mike Connor of C-B Partners, a New York hedge fund, who has been accumulating shares. He thinks that the stock, selling below its estimated book value of $14 a share, is way undervalued. The stock is trading at a low price-earnings ratio of eight times estimated fiscal 1998 earnings of $1.28, figures Connor. He thinks the stock is worth 18. And even at that price, the stock is trading at less than 15 times the 1998 earnings estimate, way below the S&P 500's 22 p-e.
The stock's appeal, says Connor, is enhanced by the company's practically debt-free balance sheet. What's more, in an industry characterized by volatile earnings, Syms hasn't experienced a single quarterly loss since 1959, notes Connor.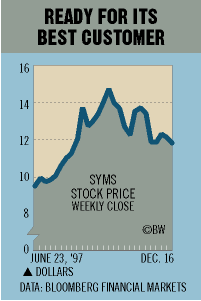 And there's another big plus: the possibility of a buyout. Connor recalls that, only two years ago, the Syms family, which already controls about 50% of the company's stock, tried unsuccessfully to acquire the entire organization in a leveraged buyout. "With all that the company has going for it--and the consolidation in the industry--Syms's competitors might consider it an attractive takeover prospect," says Connor. He notes that no acquisition deal will be possible without the cooperation of founder and CEO Sy Syms, who is 71. "He has to be giving some thought to either selling out or merging with a larger company in order to grow more rapidly," speculates Connor. A Syms spokesman, however, says that the subject has never been discussed at the senior management level.