So This Is A Delicacy?
Seanna Browder
My introduction to lutefisk came several years ago at a Christmas Eve gathering held at a friend's house in Ballard, a Scandinavian enclave in Seattle. When a platter of the translucent, strong-smelling fish was brought out, all the party-goers of Swedish and Norwegian descent surrounded the table and collectively uttered "Lutefisk!" I thought: "This must be good, if people gather in worship." I took a small bite of the gelatinous white fish swimming in butter--and gagged. What the heck was lutefisk?
Being a relative newcomer to Scandinavian ways, I had no idea what I was eating. Lutefisk (which is pronounced "LUDE-a-fisk") is codfish that has been dried or cured, and then reconstituted with lye-and-water baths. In fact, roughly translated, lutefisk means "lye fish." To me, eating it was like swallowing cold clam chowder straight from a can.
The lutefisk tradition stretches back more than 500 years. Supposedly, the delicacy was discovered when the Vikings burned down a fishing village where cod lay drying on racks. After the plunder, it started to rain, and the fish were buried in ashes, a source of lye. Days later, poking through the ashes, villagers found fish that looked like fresh fillets. Lutefisk was brought to America by Scandinavian immigrants who flocked to the cold Midwest and to the fjordlike waters of Puget Sound in Washington State. Today, in Sweden and Norway, it is no longer a staple of the diet, but in the U.S. it remains a holiday tradition.
SKUNKS' BANE. Christmas Eve would not be the same for many Scandinavian-Americans, especially those from Sweden and Norway, if the lutefisk were not brought out. The fish is microwaved, boiled, or baked. The Swedes serve it in a cream sauce; the Norwegians prefer it with clarified butter. Before eating, a couple of jokes are required, such as the one about how the best way to evict skunks from your house is to throw some lutefisk under the porch. After the jokes, however, the lutefisk is swallowed with reverence. "It's a peculiar food that defines Scandinavian tradition, and I think people value that," says Gary Legwold, author of The Last Word on Lutefisk.
For those who are descended from Vikings, lutefisk is a way of holding on to their heritage. But it is no longer necessary to burn down a village in order to process the cod. It can be purchased from shops such as Scandinavian Speciality Products Inc. in Ballard, Wash., run by Ruby Anderson. She has a local butcher make lutefisk for her. But most of it comes from big processors in Minnesota and Washington. Olsen Fish Co. in Minneapolis is the largest, shipping 600,000 pounds throughout the U.S. this year. New Day Fisheries in Port Townsend, Wash., supplies the West Coast with more than 25,000 pounds.
In late summer and early fall, New Day brings in cod caught in the cold waters of the Bering Sea. The fish is salted and cured in a monthlong process, says Scott Kimmel, co-owner. Then come two weeks of lye-and-water baths to bring back the fish to a near-fresh state. The key is to prepare the right amount before the busy Christmas season. Who wants to eat this stuff more than once a year? In the week just before Christmas, Kimmel pushes 10,000 pounds of lutefisk out the door. "We have run out before, and people were upset," says Kimmel, who keeps a backup of frozen lutefisk.
CHURCH SUPPERS. Kimmel ships his 50-pound boxes of lutefisk to churches, restaurants, and retailers, who then sell it for up to $3.59 a pound. Clubs and churches host big lutefisk feeds in the fall. The Stanwood (Wash.) Lions Club and the First Lutheran Church in Poulsbo serve more than a ton of boiled lutefisk at annual dinners.
Kimmel, 33, is a native of Poulsbo, a settlement founded by Norwegians in the 1880s. The dramatic backdrop of the snow-covered Olympic Mountains and the clear, cold waters of Liberty Bay attracted Nordic pioneers to this Puget Sound spot. Kimmel and his father started New Day in 1981 to process shrimp, crab, salmon, and sea urchins caught off the Pacific coast. They added lutefisk in 1982 when they bought the lutefisk-processing recipe that was created by Norwegian immigrants Rudy Iverson and Ole Serwold.
Kimmel laughs and doesn't answer when asked if he likes lutefisk. He says that, as the sole fish-processing company in town, New Day had a duty to continue the tradition of Poulsbo lutefisk. In fact, the fishy smell and noisy trucks coming from New Day eventually became too much for Poulsbo, now a Seattle bedroom community and tourist spot known as "Little Norway." The company moved 45 minutes north, to Port Townsend, in 1987.
While the lutefisk business brings in less than 10% of New Day's annual revenues of $2 million, it helps the company weather the comparatively slow winter months. In November, when I visited, 14 tanks some five feet deep were brimming with fillets.
LIKE GELATIN. The key to making lutefisk is not leaving it too long in the lye--lest it turn to mush. "The goal is to produce a fish that is translucent, firm, and Jell-O-like," Kimmel says. Rudy Dorff, president of Olsen Fish Co., guards his processing secrets with fierce pride, as does Kimmel. Olsen ships out more than 450,000 pounds of lutefisk during December. Sales are brisk this year because the company has begun marketing to Scandinavian snow birds wintering in the Southwest.
Olsen gets his dried cod or stockfish from the Lofoten Islands in Norway. The fish is kiln-dried there until it looks like long pieces of balsa wood. Then it is shipped to Minnesota, where it starts the two-week process of lye-and-water baths that plump up the fish to eight times its dried weight.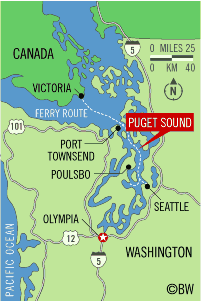 Like other U.S. industries, the lutefisk business is consolidating. Just a decade ago, there were five lutefisk processors in Washington State. Today, only New Day remains. Kimmel says it's hard to get the next generation interested in a fish that is, after all, an acquired taste.
All is not lost, however. Although there are many who think lutefisk is just for old folks, it's a link with the past, says Legwold. So he hopes the younger generation will come to savor the fish's distinctive taste. I won't be one of them. The next time I'm among traditionalist Scandinavians, I will compliment the chef on preserving a noble heritage but will politely decline the lutefisk.
Before it's here, it's on the Bloomberg Terminal.
LEARN MORE